A Night at the Opera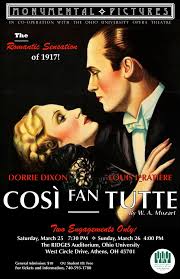 On Thursday November 23rd, A level Music students went to the Milton Keynes theatre to experience their first live opera.
As part of A level studies, students need to have an understanding of opera from the Classical period specifically the operas of Mozart, so when I heard the Glyndebourne opera company were performing Mozart's "Cosi Fan Tutte" in Milton Keynes, it was a learning opportunity for our students that I couldn't pass by!
The story begins with a wily old cynic and experimental philosopher, Don Alfonso, who determines to overturn the perfect, formulaic worlds of two young men, named Ferrando and Gugliemo. He bets them that their respective fiancées would not stay faithful for a moment if put to the test, and the challenge is accepted. Before long, fiancées (and sisters) Fiordiligi and Dorabella discover that their lovers are leaving to 'go to war', and two handsome strangers (Ferrando and Gugliemo in disguise) arrive on a mission of seduction…
As Don Alfonso ups the ante and throws increasingly extreme situations at all four lovers, they begin to react emotionally and each character cannot help but reveal, and discover, who they really are.
The students were fantastic ambassadors for Akeley, with their impeccable behaviour and respectful theatre etiquette. This opportunity was a great introduction to understanding Classical opera, which we will now further develop in our Music lessons.
Mr. Powell
Director of Music
Head of Performing Arts
Published on: 4th December 2017