Akeley Equestrian Team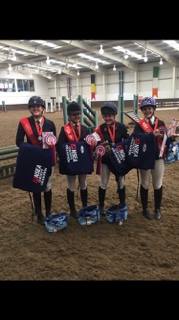 We are extremely proud to announce that  Akeley's dressage team, Martha, Ellie, Megan and Connie won the County Championships, which took place on Sunday 9th April at Addington Manor Equestrian Centre.  20 teams qualified to take part from different counties across the UK. The Akeley girls performed four fantastic dressage tests beating  their rivals. Martha also came 3rd and 9th in her two individual categories.
Very proud of such a talented team. Well done all!
Published on: 12th April 2017