Akeley Wood House Opro Mouth Guard fittings Autumn Term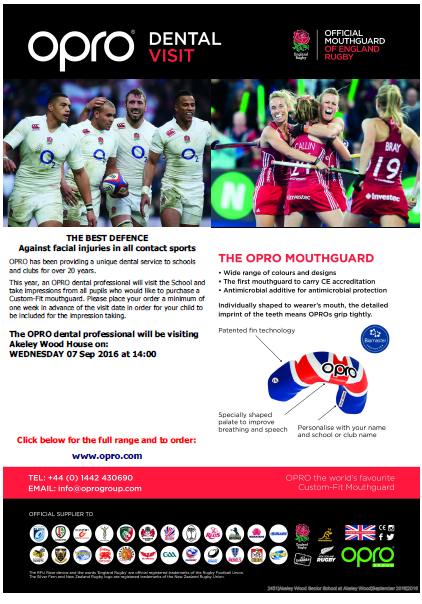 Mouth-guards
As you may be aware, the governing bodies of rugby, hockey and lacrosse whose schools' International players are required to wear mouth-guards, strongly recommend the wearing of custom fitting mouth-guards at all levels.  The school policy is now for all pupils to have a mouth-guard for rugby and hockey.   We have asked OPRO, the dental organisation that specialises in mouth-guards, to visit the school and to give everyone, including wearers of fixed braces, the opportunity to have a dentally fitted mouth-guard at a reasonable cost.
OPRO now visits a very substantial number of schools, and provides the following service;
A qualified dental professional to take the impression.
A CE approved individually named mouth-guard.
School name in mouth-guard.
Mouth-guard returned to the school usually within a week.
A prompt replacement in case of loss (OPRO keep the model).
A comprehensive aftercare service
A dental accident warranty for 12 months
Please order your child's mouth-guard online at www.opro.com to see the full range of designs available.   Orders can be accepted online, by phone or post.
In all cases please deal directly with OPRO and not the school.
Published on: 13th June 2016