BBC News Report Day
On Thursday 16th March, four BBC school reporters from Akeley Wood School looked at the history of Tile House Mansion and what it is like to be a pupil there.
The reporters, who are pupils at the School taking part in a BBC News Report Day, wanted to find out the history of the building and to show people what it is like to attend school in the beautiful building and grounds.
During the day, pupils were interviewed about what it is like to go to Akeley Wood School. One Year 7 girl said 'My favourite lessons are Science, PE and History.' Pupils enjoy a range of lessons and love the extra-curricular opportunities available to them.
The reporters found out that Akeley Wood School has 850 students over the three sites and that Tile House Mansion used to be called Charmandean.
Most importantly, the School is a place where the pupils learn, achieve and build lifelong friendships.
Amelia Askham, 7MDM, and Amelia Christmas, 7NBR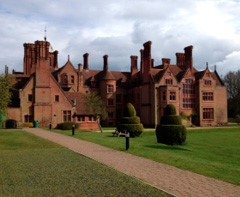 Published on: 16th March 2017