Big Bang Fair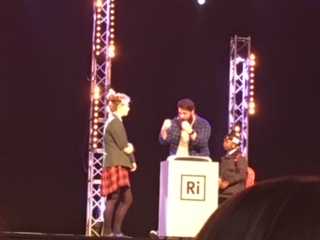 On Friday, 16th March Year 9 travelled to the NEC in Birmingham to participate in the Big Bang Fair 2018. The day kicked-off with a stage show, with Sofia testing her concentration against a seven year old.  and Joshua participated in an elephant's toothpaste experiment. As well as this, there were explosions, opera singers and giant balls!
We were then given 1 ½ hours to explore the various stalls and attractions. Many groups enjoyed the VR headsets dotted around the fair. There was also microscopes looking at insects and even a subway. My group went to a JCB stand and we saw a 2017 Williams Formula 1 car. Furthermore, Land Rover were showing their Jet engines and had other activities on a futuristic car.
We really enjoyed the day and can't wait for another trip soon.
Published on: 3rd April 2018