Cancer Research – Fundraising – 2015/16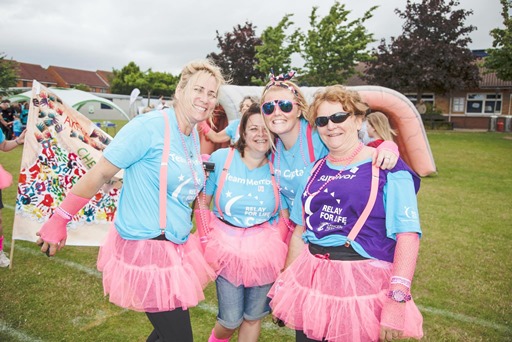 Back in December last year the Akeley Wood Strollers began their quest to raise money for Cancer Research. A number of fundraising events took part over the rest of the school year, such as a Spa & Spend Evening, non-uniform day and numerous sweet, cake and ice cream sales. So in just six months of promoting and organising events the end sum of £6400.40 smashing their target and winning the incentive points award! Thank you to all the team: Mrs Sexton, Mrs Cross, Mrs Thornley, Mrs Windsor, Mrs Clough, Mrs Robinson (who also delivered 28 Indian Head Massages), Mrs Maltby, Mr Coughlan, Mrs Keegan, Mrs Koshal and Miss Boardman for all their efforts in raising this fantastic amount for a fantastic cause close to many of our hearts.
24hr Relay for Life Buckingham 2016
On the weekend of the 9th July 2016 The Akeley Wood Strollers set out on their final challenge, the 24hr Relay for Life, in aid of Cancer Research.  The weather was mixed starting out sunny and dry but ending up in true British style….wet!
All members of the Akeley Wood Strollers would like to thank everyone for their support in the team's fundraising for Cancer Research. The twelve members of staff endured 24 hours of pain, fun, tears and laughter.
Akeley Wood's talented Anaya Kundi sang as part of the event's entertainment programme and wowed the crowd with her strong and powerful melodies. Whilst the team's talent lied in the number of laps completed, this was measured by collecting a bead a lap. As you can imagine in Akeley spirit this got slightly competitive! In total the team walked 245miles over the 24 hours and still managed to remember to wear fancy dress for the themed laps.
Once again thank you for the extraordinary Akeley support.
Miss N Charsley- one proud team captain!
Miss N Charsley
Head of Year 9
Head of Thompson House
Teacher of PE & Games
Akeley Wood School
Published on: 8th September 2016