Christian Nielson-Evans Head Boy 2016/17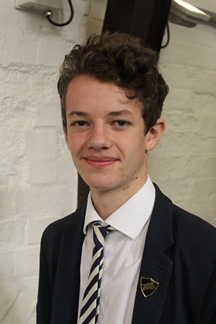 Head boy 2016/17 Akeley Wood School
What subjects are you studying at A-Level?
Politics, Geography and Psychology.
What made you choose your chosen subjects?
Geography was my favorite subject during GCSE and I've always wanted to go into something geography based. I was also very much into politics, however, I never really had the chance to look further into it.  As international relations and international development are based around politics, I thought it would be very useful. Finally, psychology has always appealed to me. It seemed an interesting subject to study, as I have always wondered why people are the way they are. Psychology will hopefully help me understand this.
What are your strengths?
I believe my strengths are being able to work as a team; being able to think on my feet and good public speaking skills.
What Year did you join Akeley Wood?
I joined Akeley in Year 7.
What are your hobbies and passions?
I am a keen footballer and a big Chelsea supporter. In addition, I also enjoy cycling, particularly competing in charity races. My real passion, however, is traveling, which I have been lucky to do extensively. Hopefully, I will be in a position to continue with this during my time at university.
Where do you see yourself in the future?
In the future, I would like to study International Development at university; this very much appeals to me because of the possibility of being able to travel.
What have you enjoyed the most so far at Akeley Wood School?
I have really enjoyed the opportunity to mentor younger pupils and help them with their development through Akeley.
What has been your best experience At Akeley Wood?
My best experience at Akeley has been the opportunity to visit Sri Lanka as a volunteer. It was easily the most eye opening experience I have had and the opportunity to do it with my friends was amazing.
What would you say to anyone joining Akeley Wood?
I would say get involved in all the added extras Akeley offers, such as debating, archery and all the possible roles you can take up, for example, running for a prefect position or house captain.
What do you hope to gain from your position as a Head of School? 
I hope to gain a better understanding of the running and management of a school and hopefully improve my communication skills still further, because I'll be dealing with a large array of different people. I would very much like to 'give something back to the school' which has been so good to me over the last five years.
Published on: 22nd September 2016