Coca-Cola Real Enterprise Challenge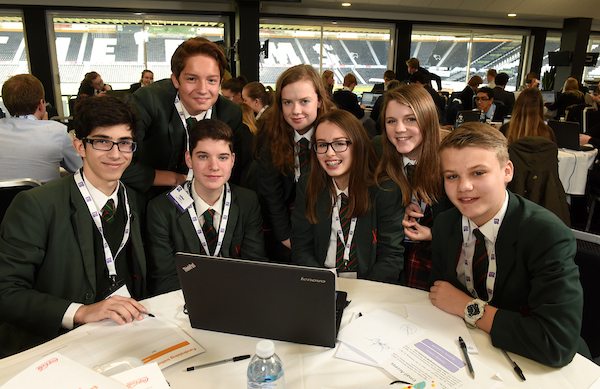 Despite one broken foot and an eye wateringly early morning, seven students from 10 EMC (including David Aburad, Sam smith, Jess smith, Jaiten Solano, Jemma Richardson, Ellie Coxall and Matt Lambros) arrived punctually at the iPro Pride Stadium in Derby to take part in the Coca-Cola Real Enterprise Challenge regional final – one of ten finalists for the East Midland area.
On arrival the teams were briefed on the challenge (Alan Sugar style) which was to create a campaign to increase the profile of the 2017 Special Olympics in Sheffield. They were assigned a 'business mentor' from Coca Cola and got straight down to work on a radio advert, bus stop poster, info-graphic, fundraising event and pitch. The day was punctuated with a number of deadlines which kept adrenaline high. A sense of urgency rippled through the room as the final presentation loomed: the winning team was to walk away with a £1000 VIP day out of their choice.
MKSO, as they called themselves, delivered a credible pitch with panache, explaining their ideas with a confidence that they assure me they didn't feel. Their designs and radio ad were incredibly professional and throughout the day they conducted themselves with poise and politeness. They were a glowing example of Akeley at its best and I was very proud of their participation in what was an enriching experience for them all. The opportunity to work with a professional mentor from Coca Cola, calculate profit and loss for their fundraiser and put together a pitch to deliver to an audience of well over one hundred, was undeniably invaluable and will be an excellent addition to their CVs.
Sadly, they didn't walk away with the £1000 prize, but they came away glowing with their achievements, having had a rare insight into how the business world works (and a stop at MacDonalds was prize enough)!
Well done to them all.
Mrs McEwen
English Teacher
Akeley Wood Senior School
Published on: 9th February 2017