Cornwall 2016 Student Report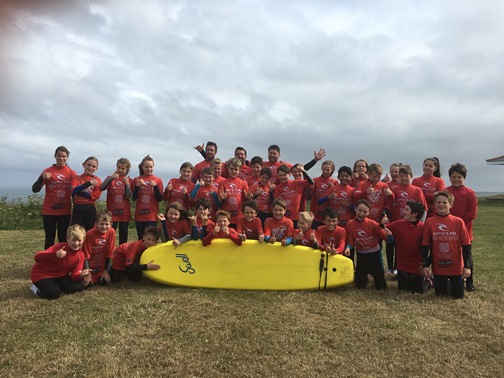 GEOGRAPHY TRIP TO CORNWALL – Alexander Garthwaite
Classes 7KLO and 7MDM headed down to Cornwall on Wednesday 18th June.  On the way down we studied coastal erosion. We looked at the different landforms that are found on the beach and how they are formed. We also look at the issues surrounding coastal erosion and what can be done to help reduce the problems it causes.
When we arrived at our Hotel in Newquay  the weather was mild enough for us to have a game of rounders and a bbq on the beach.  It was good to have a run around and enjoy the sea air.
On Thursday morning we went to the Newquay Activity Centre and enjoyed a morning of surfing.  In the afternoon we experienced ecocoastering and saw smugglers caves and jumped off high rocks.  It was so exciting jumping into sea one at a time.  We all slept well that night.
On Friday morning the sun came out again and after an early breakfast we drove to the Eden Project. The Eden Project was completed in 2003.  It consists of two biomes, the Humid Tropical Biome featuring a jungle environment and the Warm Temperate Biome featuring plant species from the Mediterranean, South Africa and California. The biomes are the largest conservatories in the world. The rain forest biome is the largest in captivity of its kind and it is very hot. There are a huge range of plants.  I liked the rainforest tree walk which took you up into the canopy of the trees.
It was very dramatic looking out from the bridge over the biomes as we left.  The whole trip was an amazing experience.
Published on: 30th June 2016