Dennis Kelly's dark and chilling play, DNA.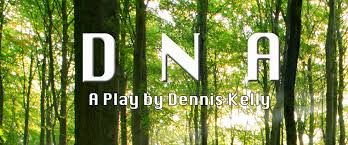 DNA:  23rd June Drama Studio
'What's more important, one person or everyone?' That's the question at the centre of Dennis Kelly's dark and chilling play, DNA.
The Year 10 GCSE Drama group performed DNA this term. The plot follows a group of teenagers that do something very wrong and panic to cover the whole thing up – it is about the lengths to which you would go to protect yourself and your friends.
It all starts with an accident.  A group of school friends amuse themselves by bullying one of their own, but when a prank goes too far with tragic results, a carefully orchestrated cover-up provides the catalyst to a series of chilling events with unforeseen consequences.  Ultimately friendships fracture and lives are destroyed.
I am immensely proud of the cast's performance – they completely captured the tensions and struggles of teenagers out of control.  DNA is a dark play, with challenging themes and characters, which they handled proficiently and professionally.
It is very much an ensemble piece, but all of the cast played their part believably: Leah's rambling, yet endearing, monologues were expertly handled by Lana Docking; the awkward, moody and silent Phil was chillingly controlled by a taciturn Phil Swabey; Tom Griffiths' ending monologue was beautifully lyrical and choreographed; a feisty Cathy was delivered smoothly by Nadia Power and the comic relief "This isn't dental college" frightened Danny with aplomb by Sam Day.
Smaller, but crucial roles, were played by Steven Reyes, Jake Purnell, Izzy Snow, Bryher Morris and Robin Skeppstam with strong emotional connection from all –  infectiously emotive and distressed; enthralling and creepy.
DNA is a dark play, with a dark theme: but the students shone like stars.
Mrs Glynn, Head of Drama &Theatre Studies
Published on: 28th June 2016