Akeley Wood House Official Licensed Centre – Duke of Edinburgh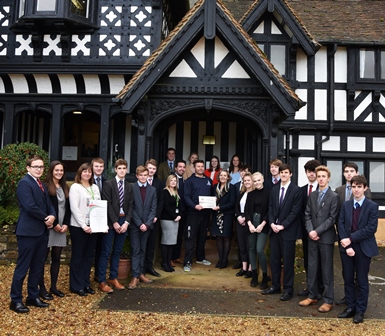 We're going for Gold…!
Akeley Wood House is now an official DofE Licensed Centre!  With over 500 participants on the scheme we are one of the largest centres in the county. All elements of the scheme are now run on site with our dedicated DofE team; Mr Handby, Mr Cutler-Ames & Mrs Marsh. Our new Gold Award students are the largest cohort in many years (pictured) and have their sights set on St James' Palace in 2018.  We would like to congratulate all DofE participants from Bronze to Gold who have invested over 700 hours and nearly £3000 pounds from their services in the voluntary section since April 2016.
2017 looks to be our most successful year yet in helping your child complete their Award. Our dates, out soon, include team building days, expeditions, training evenings, social events and Akeley Wood's Premiere DofE Award Ceremony!  We would like to thank all the parents who have dedicated time and money towards the scheme over the years and continue to support our ever growing centre.
We feel the best is yet to come.
Mrs Marsh
Administrative Assistant AWH
Duke of Edinburgh Award Administrator
Duke of Edinburgh Award Verifier
Akeley Wood Senior School
Published on: 30th November 2016