Emily Head girl 2016/17 Akeley Wood School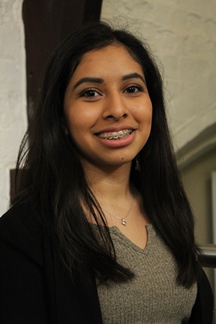 Spanish Ambassador and Head of Student Council
What subjects are you studying at A-Level?
I am studying Spanish, English and Geography
What made you choose your chosen subjects?
I have always had a passion and natural ability for languages, so choosing Spanish seemed very natural to me.  I have enjoyed English and Geography from a young age and think that they are very useful subjects to study.
What are your strengths?
I think that public speaking is one of my best strengths as well as being a great enjoyment of mine. I am also very organised and always keep on top of my work.  Furthermore, I am an excellent team player.
What Year did you join Akeley Wood?
I joined Akeley at the beginning of Sixth Form, Year 12
What are your hobbies and passions?
I enjoy writing poetry and this blossomed from a love of English and reading.  I also am passionate about languages and the way in which they enable us to communicate and understand people of different cultures
Where do you see yourself in the future?
After leaving Akeley, I hope to go to University to study Spanish
What have you enjoyed the most so far at Akeley Wood School?
Whilst being in the sixth form, I have enjoyed the freedom and responsibilities of managing my own studies
What has been your best experience at Akeley Wood?
I would say that my best experience at Akeley was when I first joined. The friendly and welcoming atmosphere made me feel comfortable and happy and I immediately felt like an Akeley student.
What would you say to anyone joining Akeley Wood?
I would say to take advantage of every opportunity Akeley has to offer. It is said that your school years are some of the most enjoyable and important in your life so make sure you gain the most out of your Akeley experience.
What do you hope to gain from your position as a Head of School? 
I hope to gain valuable experience in management, planning, communication and strategy.
Published on: 15th September 2016