End Of Term- Art- Junior School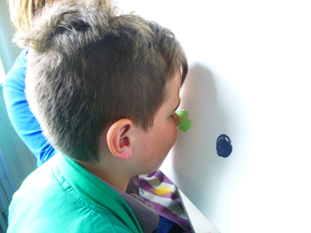 This has been our busiest term yet in our new Art Room.
Our most pleasing achievement has been to raise almost £800 for The Global Fund for Children by creating fourteen beautiful canvasses for auction.  The pupils are very proud of their class canvasses and delighted that they have been able to help other children to receive good education.
Two year groups have been involved with making costumes or props for their plays.  Year 5 collaborated to make a giant, growing beanstalk and then imaginatively added facial features to caps to represent farm animals or made their own wares to sell as market traders in Jack and the Beanstalk.  Latterly they have extended their treat theme from their canvas to make ice-lolly collages,watercolour ice-creams and painted some salt dough doughnuts.  The Year 6 pupils made Tudor style musical instruments and other props for Shakespeare Rocks.Recently they have been looking at British birds and created three dimensional birds out of clay.    Year 3 have also been using clay, creating African style masks which they enjoyed painting with bright patterns.  They have also produced some vibrant mixed media pictures of Wicken Park.  Year 4 have been looking at Body Art; in connection which their topic on an Indian village, they learned about henna hands and decorated their own hands with face paints.  Their canvasses were painted with their hands, feet or noses!  Then they used a view finder to make a composition of a still life from pastels before making a three dimensional elephant each.  Year 2 children have been considering texture making some base relief fish from clay.  They also collected rubbings of textured surfaces.
Meanwhile our two after school Art Clubs and lunchtime Creative Club have been making cartoons, drawing pictures of Sports Day and designing enormous birthday cakes for the Queen's 90th birthday.  It hardly seems possible that it is only a year since we moved into our new room.  Every rack, cupboard and shelf is already crammed full of Art work!  I shall have to ask Mrs Page for more space.
Mrs Burn
Girls' Games and Art Teacher
Published on: 7th July 2016