End of Term KS1 News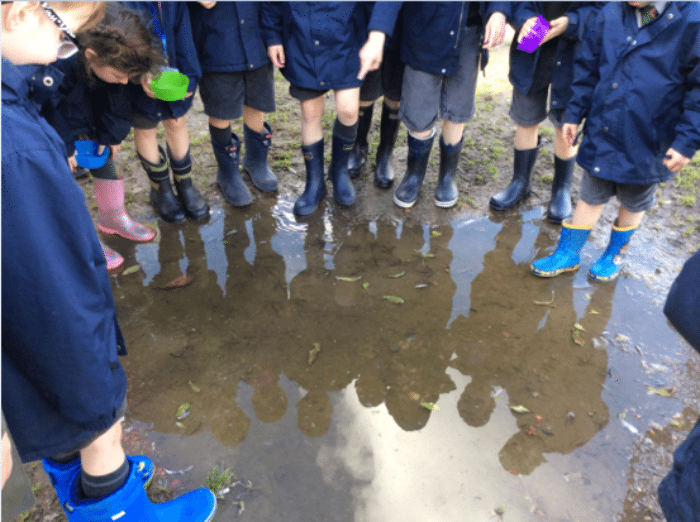 Key Stage One have had an action packed Autumn Term. All children have settled into the school routines and daily activities well. The progress they have made have made the Key Stage One Team extremely proud.
The children in Year One have enjoyed their new addition to their class 'Puzzle' the Alien who they have enjoyed teaching reading, spelling and writing, even homework to…
"I like doing my homework at home. I like the 100 square homework. Puzzle deleted the numbers and I needed to help him fill them back in". Carter
Homework has been well reciprocated elsewhere in Year 1 with Luke telling us:
"I have really enjoyed our homework, yeah, the spellings, I am good at them."
The children have enjoyed investigating and writing about their senses in Science and English, writing poetry about Autumn. As well as all the daily Maths and English Year 1 were keen to share what they liked about their specialist lessons.
"Games! Because it is really fun!" Leen
"I like Music and Choir because I like singing songs." Ellie
The Christmas play was a great success with all of Year One and Two show casing their acting and musical talents. It really did have it all, dancing, singing, acting and even elephants! The children performed their hearts out and were so pleased to perform in front of an audience, not just once but twice!
"I liked the Christmas play because the adults were watching and we were brilliant." Olivia Year 1
"This term I have enjoyed the Christmas Play the most, because my mum said I was brilliant." Xavier Year 2
Year 2 also had a busy term, travelling back in time to the Year 1666 where they met Samuel Pepys and learned all about the Great Fire of London. The topic gave the children a great starting point to write, poetry, letters, diary entries and news reports. Children also found our Under the Sea topic fascinating looking at the different seas and oceans and creatures which live below. This also gave us a good story writing ideas. In Year 2, we were also very lucky to have a Skype chat with a marine biologist who helped us with our Under the Sea learning.
"I enjoyed Under the Sea because I coud write about Sea Adventures." Lewis
Elsewhere around school, the children have also enjoyed a wide variety of lessons including PE.
"This term I have enjoyed PE because hockey is my favourite sport and I got to play in hockey matches." Emma
"I liked going to the cinema to see Captain Underpants."
Year 2 thoroughly enjoyed Art.
"This term I enjoyed Art because it is fun and enjoyable" Christopher
 I Have enjoyed Art because we got to make reindeer. We made it out of cardboard and paint." Kiyan
We are looking forward to starting our new topic across Key Stage One, Fairy Tales. From everyone in Year 1 and 2 we wish you all a very Merry Christmas.
Published on: 18th December 2017