End of Term News-KS1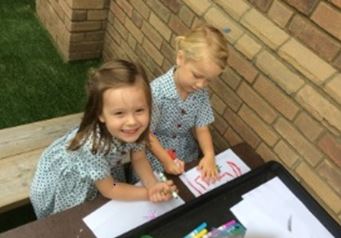 Year 1
Year One have had an extremely busy term. Not only have we had to get used to the daily rules and  routines of being in the main school building, we have learnt a lot in our lessons over the past few months.
Our Topic and Science lessons have taught us more about 'Ourselves' and how we are the same but different to the people around us. We have researched the UK and how we are different to other countries. We have identified and learned that where we live is very different to a big busy city such as London.
We have been very creative, especially in Art, using lots of different media to create portraits. We have looked at colour mixing and how to make different secondary colours. We have made our own box Gingerbread style houses which the children have thoroughly enjoyed.
In Forest school we enjoyed a fire pit with Mrs Sandiford cooking hot dogs and drinking hot chocolate. Delicious!
Year 2
Year 2 have has a very busy first term!  During their History lessons the children have enjoyed learning about famous people. A real favourite was Florence Nightingale.  Our trip to Claydon House gave the children the opportunity to see how Florence Nightingale lived and what life was like in Victorian times.  They have created some wonderful booklets and pieces of homework.  Thank you for your continued support with listening to your children read each night and supporting them with their homework.
Merry Christmas from all of the KS1 Staff
Akeley Wood Junior School
Published on: 16th December 2016