End of Term Reception News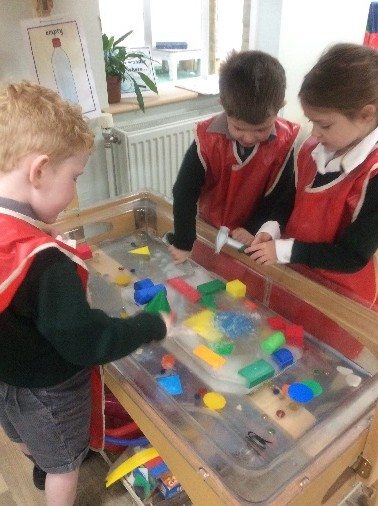 We have enjoyed a very busy first term in Reception. The children have enjoyed learning about themselves and others in the class and getting used to the school expectations and routines. We have enjoyed toasting marshmallows in Forest School, visiting the cinema, performing our nativity play, making clay faces and much more. Here are some of the children's highlights.
Charlie – 'I liked it when we had to write what we wanted for Christmas. The Worry Monster left us a note'.
Nico – 'I have liked making stuff from the construction. I made a cool Knex monster'.
Eleanor – 'I liked cracking the ice. I used the hammer to find the shapes'.
William P – 'I got a rocket. I liked having hot chocolate with Mrs Page'.
Halle – 'My favourite thing is the role play. I have liked the Santa's workshop the best. I have dressed up as an elf and I get to wrap up presents.'
William A – 'I liked it when we had our faces painted at Forest School. I had a duck on my face'.
Kezia – 'I have liked Ballet. I like dancing to the music'.
We wish you a Merry Christmas and Happy New Year.
The Reception Team
Published on: 18th December 2017