England Netball comes to Akeley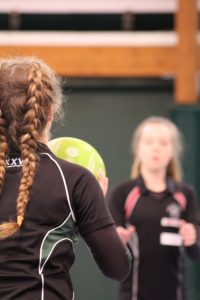 In April 2017, Pamela Cookey, ex-England Netball captain, came to our school to deliver a training session to each year group from year 7-13. She taught us new drills to help both the attacking and defensive side of our games, and at the end of the day, she chose two girls to mentor until September.
I was very lucky to be chosen, by Pamela. This involved calling on Skype every few weeks to talk about my strengths and weaknesses, and how to improve; whether it be the skills on court, or fitness wise. I was given exercises and drills to help progress in these weaker areas of mine. Amazingly, I noticed improvements, especially in my drive towards the ball to intercept or to outwit my opponent, during competitive matches for my club outside of school.
It has been an incredible experience for me to work with Pamela as she is a big inspiration to all the netball players out there, and she has helped me bring out the best in myself on the court, as well as teaching me to be a better sportsman and leader.
Meeting Pamela Cookey, and being a part of the Mintridge Events Mentoring Programme has been an experience I will never forget.
Izzy Byron
Year 13
Published on: 6th October 2017