English at the Senior School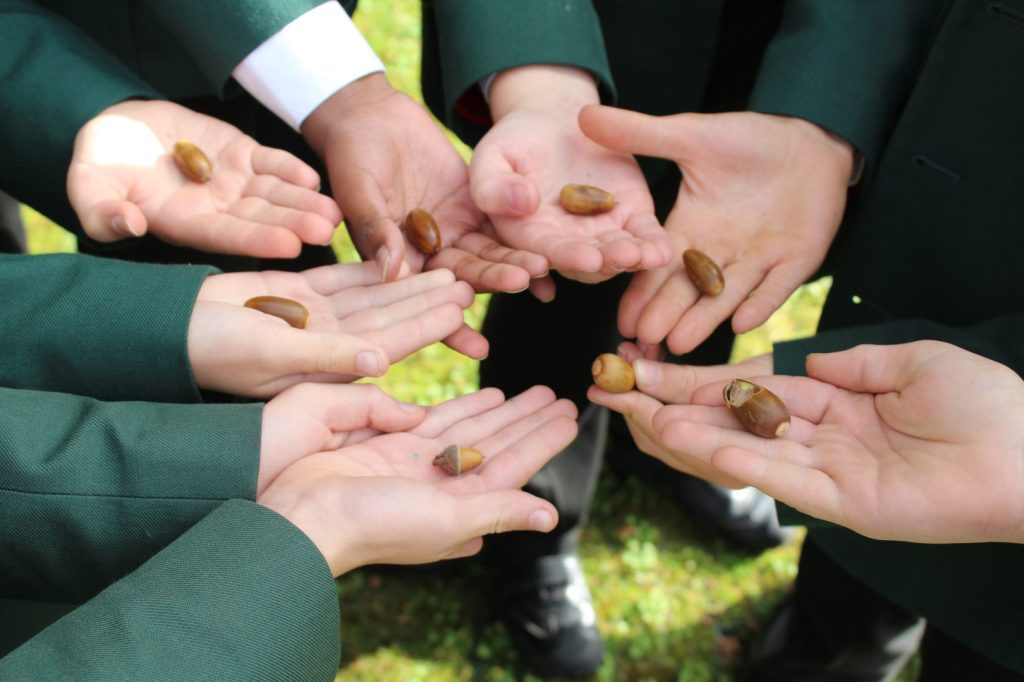 As the new academic year began, the English Department were feeling enthused about inspiring students with a love of reading, which is arguably at the heart of all things 'English' and is one of the most rewarding ways to enlarge students' worlds, vocabularies, perspectives and thinking. This year, there has been a more tangible focus on reading for pleasure and it has been satisfying to see many students at THM consuming large quantities of novels. This will not only improve their levels of literacy and achievement in English, but statistics show that there is an indisputable link between reading for pleasure and attainment, both at school and in working life.
With Halloween as one of the key dates in the Autumn term, numerous students have been dipping into the world of the supernatural. Many Year 11 students have been on the edge of their seats, reading Susan Hill's classic ghost story "The Woman in Black" which tells of a chilling spectre that haunts a small English town and follows the heart stopping series of events: a moving rocking chair in a deserted nursery, the eerie sound of a pony and trap, a child's scream in the fog, and, most terrifying of all, a ghostly woman dressed in black. Less chilling, but perhaps more didactic, other Year 11 students have studied "An Inspector Calls". Inspector Goole (an interesting play on words) is revealed at the end of the play not to be a police inspector; he seems less like a person and more like a moral force, mercilessly pursuing the Birling family, demanding that they face up to the consequences of their actions. The play, an unusual mixture of detective genre and morality play, is unashamedly a vehicle for Priestley's own view on how society should operate and it is a useful quote for us all to remember.  "We don't live alone. We are members of one body."
It is not just those students studying for mock exams in December who have been escaping into ghostly worlds. Students in Year 8 have been studying Gothic Literature, looking at a range of texts from WW Jacobs' 'The Monkey's Paw' to 'The Red Room' by HG Wells. They have had the opportunity to both read and recognise the features of gothic writing and write their own ghost stories. More recently, they have been looking at the evil influence of the witches in 'Macbeth' who 'look not like inhabitants o' the earth'. Banquo, who is able to see that they are the "instruments of darkness" is not overwhelmed by their prophecies, but they have an altogether different effect on the ambitious Macbeth, whose manipulative wife is easily able to supply any persuasion he needs to kill the King. Teachers have been trying to interest pupils in the Bard's great work with discussion of the overwhelmingly universal themes of greed, ambition and guilt.
Not to be left out, some Year 7 groups have been reading "Cirque Du Freak" which follows Darren Shan and his obsession with spiders, which leads him into an unfortunate encounter with a Vampire. This book is a page turner and students will be desperate to read the next instalments – perhaps something to add to the Christmas list? At Tile House Mansion, all this work culminated in a spectacular Spooktacular event which saw a variety of cross curricular activities all based around the ghostly theme and an afternoon of drama, music, dance and some spooky poetry readings.
Rather than looking at paranormal worlds, Year 9 have been imagining and reading about dystopian settings. They have read a variety of extracts from novels and whilst being captivated by the horror and excessive control in these 'other' societies, they have had the chance to practise some of the skills they will need for the English Language exam. Many produced stunning pieces of writing and some incredible projects based on their learning about the genre.
It has been a jam-packed term in English and the students can be proud of the progress that they have made. Our advice is that over Christmas they relax in the soft festive glow of the Christmas lights – with a good book!
Published on: 15th December 2017