Fareaware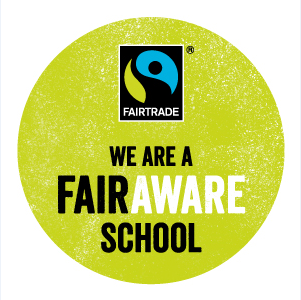 Geography Exceptional Potential event in the Library at THM
Going for Fairtrade Schools Award  – " Fare Aware"
By Miss R Manby Geography Teacher AWSS
This week as we celebrate Fair Trade fortnight,   pupils from years 8 and 9 worked incredibly hard, creating displays, tasting chocolate, interpreting survey results and speaking with a local Tradecraft ambassador.
The Fairtrade Team will meet regularly to discuss Fairtrade issues within the school and to work on the various action points.  We will start small, and aim high by making school wide changes.
Fairtrade Awareness Day
By Sophia Smith Year 9
On Monday 29th February, eleven Exceptional Potential Year 8 and 9 students spent a day at Tile House Mansion learning all about Fairtrade.
It was decided to have a Fairtrade Awareness Day to raise awareness of the work Fairtrade does in small communities in poor countries. It is also Fairtrade Fortnight from 29th February.
Akeley Wood is aiming to become a Fairtrade School; in order to achieve this we have joined a worldwide movement, the Fairtrade Schools Award. We have already been successful in the first stage – Akeley is now a Fair Aware School! The next step is to become a Fair Active School. To accomplish this we have set ourselves a number of goals which include holding an assembly and a Fairtrade stall, and using more Fairtrade products in everyday school life.
The final stage is to gain the Fair Achiever Schools Award. To enable us to do this we should be buying as much Fairtrade produce as we can and fundraising to help Fairtrade organisations so we can make a difference.
On the day, the first thing we did was listen to a presentation so we understood where Fairtrade was operating globally and the sort of things they bought; amongst the most common items were tea, coffee, sugar and chocolate. Armed with this knowledge, we spent over an hour creating our fantastic Fairtrade display, which highlights all of the countries and what they sell.
After a short break, when we enjoyed Fairtrade rice cakes and hot chocolate, we all gathered again to watch an eye opening video – The Great African Scandal – about trade in Ghana. The average wage for farmers there is 60p per day, but many people get paid less. This is why we have to support Fairtrade. It ensures these farmers have a better life.
Following lunch, we were fortunate to have a visit from Margaret Gateley, who is a speaker and supporter of Traidcraft. She explained how Buckingham became a Fairtrade town, which it has been for eight years. Buckingham acquired this status because a large proportion of local businesses and major supermarkets, such as Tesco and Waitrose, stocked a variety of Fairtrade items.
The day ended with a Fairtrade chocolate tasting, which was very enjoyable! The chocolates we sampled were all delicious (with a few strange aromas, such as wine!) but the winner was Cadbury Dairy Milk.
Overall, everyone had a fantastic and informative day and had a lot of fun!
Thank you Miss Manby for organising the experience and Natasha Day for your help.
The following pupils were involved in a day of activities surrounding the issue of Fairtrade.
Tash Day – Sixth Form help
Daniel Barclay
Archie Pearce
Sophia Smith
Dominic Selvey
Caitlin Jones
Sam Bateman
Ella Rose
Guy Johnson
Tobias Landells
Nathan Hines
Megan Ponte
Well done to all involved!
Published on: 1st March 2016