Junior School – Food Technology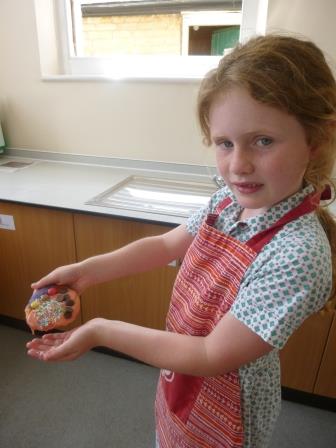 We have had another busy and very hot term in the Food Technology room!  Visitors always comment on the wonderful aroma coming down the corridor and how great it is to see the children cooking and learning such a valuable life skill.
Year 6 have been learning about famous chefs and following some of their recipes. They enjoyed making Jamie Oliver's Fish and Chips as they got to use the blue chopping board!  Some of the groups made James Martin's Chocolate Tarts. They were delicious and not many of them made it home!  In the last lesson of the year many pupils were involved in a 'Ready Steady Cook' styled lesson. They had so much fun working together to create tasty dishes by using all the secret ingredients from the bags.
Year 5 have been making starters, main courses and desserts. I think the most popular activity was making onion bhajis, even though the onions made their eyes water!  Many of the pupils were so surprised to find that they actually liked the taste even though they didn't think they would. In the last lesson of the year they had to independently follow a recipe and to make different light bites. These included Hawaiian pizza, Chow Mein and treacle tarts. They really enjoyed tasting each other's food.
Year 4 have enjoyed learning about bread and how to bake it. They especially enjoyed making the mini focaccia with rosemary and tomatoes.
Year 3 have been making biscuits this term. They have included gingerbread faces, oat and raisin biscuits, lemon twists and savory cheese biscuits. For the last lesson, all pupils designed and made some rather unusually shaped and flavored biscuits.
Year 2 have been learning new skills in baking, such as creaming. They have baked vanilla cupcakes, chocolate cupcakes and rock cakes.
The Reception children have been involved in making a variety of drinks. They have learned to make fruit punch, chocolate milkshake, mango magic, smoothies and lemonade as well as creating their own drink in the end of term Drinks Challenge.
This year both the Food Tech Clubs have continued to be extremely popular. I will be introducing some brand new recipes this year, so get your names down early for the Autumn Term Clubs.
Thank you to everyone involved in delivering such a fun and valuable subject. I look forward to seeing new faces in the Food Tech room in September.
Mrs T Nesbitt
Food Technology Co-coordinator
Akeley Wood Junior School
Published on: 5th July 2017