Junior School – Forest School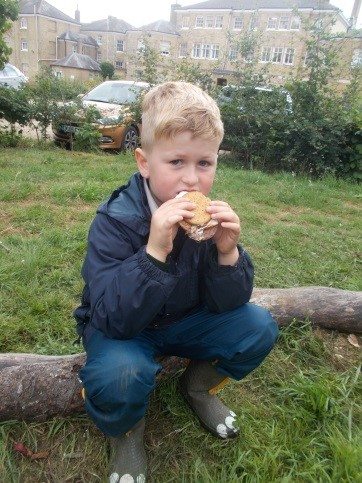 Another successful term out in Forest School!
This term, the children continued to explore the woodland and implemented all their skills into making creative objects using natural resources.  Children are becoming very independent learners and it fills me with great joy to see them enjoying themselves.
We had two bunny rabbits visiting Butterflies and one little monkey tried to escape, good thing the children were all sitting in a circle!
Caterpillars have been busy looking for bugs and found very large beetles.
We also enjoyed our campfires and this tem we have tasted delicious s'mores (toasted marshmallows in between digestives biscuits). YUM!  It was a little sticky and messy but definitely worth it!
The children were allowed to familiarise themselves with different herbs by guessing their names. Well done, William Thomas, Tejas Venkatesh and Finley Roberts for identifying all the correct names.
I would like to wish everyone a restful summer break and I looking forward to a new adventurous year.
Mrs T Sandiford
Forest School Leader
Akeley Wood Junior School & Nursery
Published on: 5th July 2017