Former Media and Film Student wins Top Award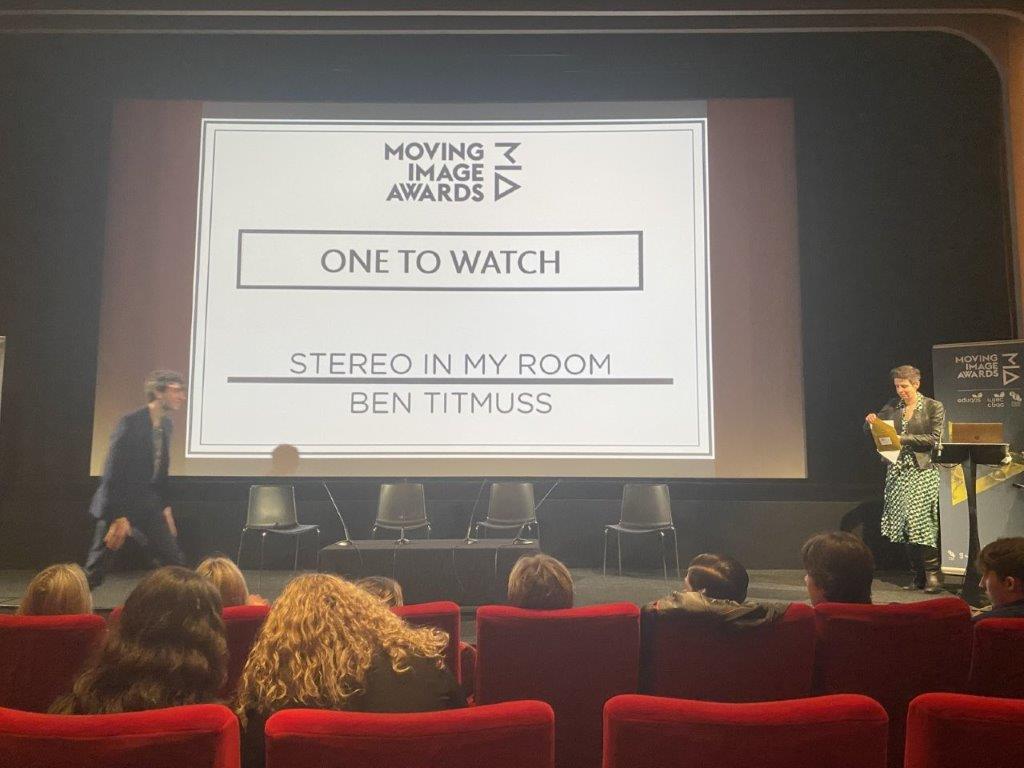 We are absolutely delighted to report that Ben T, who left Akeley Wood in 2021, has won the top award at the WJEC Moving Image Awards 2022, hosted at the British Film Institute in London last week.
Ben won the 'One To Watch' award, after being nominated in the 'Best music Video' award category.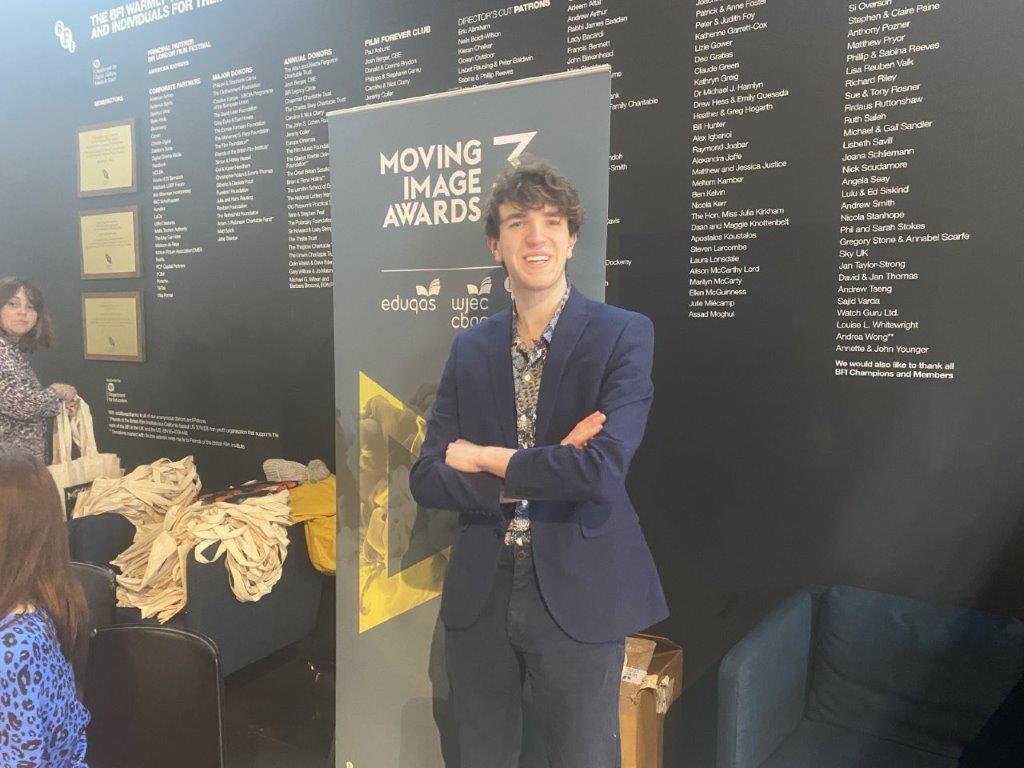 The Moving Image Awards, which has been designed in partnership with the British Film Institute, recognises and rewards the UK's most talented young film-makers. Every year, students undertaking WJEC qualifications in Film and Media are invited to submit their work for consideration by our panel of judges.
Huge congratulations to both Ben and to Mrs Georgina Keegan and the Media Department, which has grown from strength to strength, since being established in 2014. Under Mrs Keegan's guidance and expertise, students have achieved awards for a range of different media forms, including short film, documentary, TV crime drama, Music Video. These awards have been from  competitions both nationally and internationally, including: MediaMagazine, IntoFilm, and the Sharjar Internationbal Film Festival, as well as 5 consecutive years from the WJEC Moving Image Awards.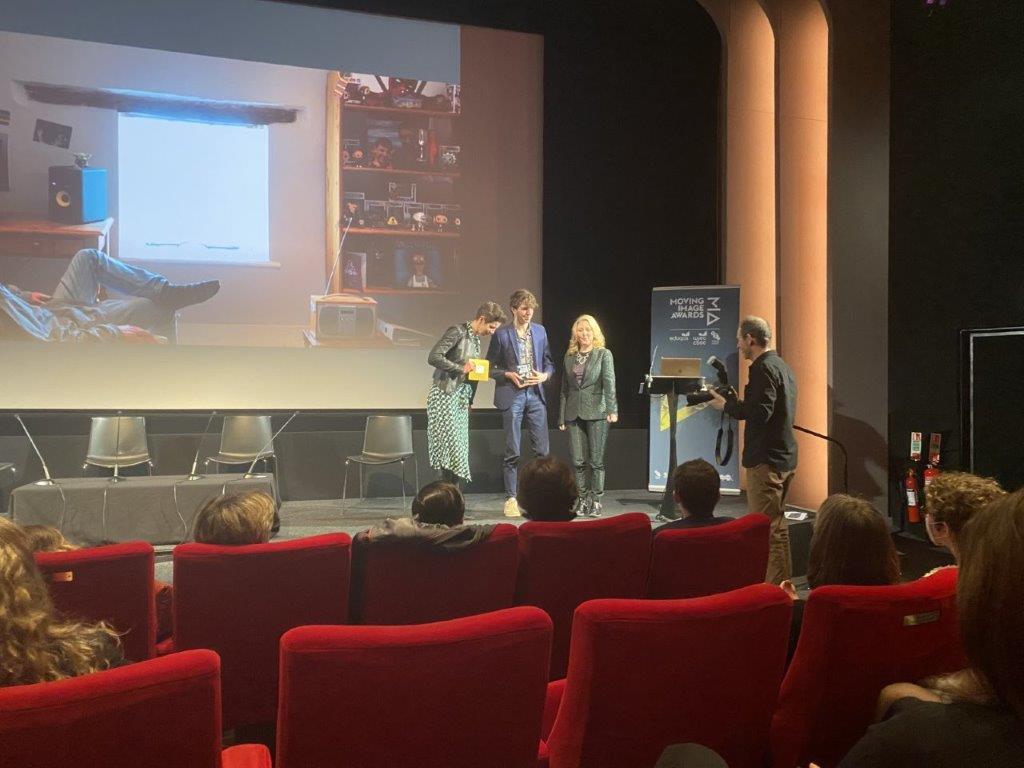 This lockdown entry for the A Level Media submission, by Ben T, is not only an innovative and artful creation of the music video genre constructed during the constraints of the pandemic, but also features his original song, 'Stereo in My Room'.
It is a real testament to the department that this year, one of it's students has been recognised with such a prestigious award. Ben's film can be watched by clicking below.
Stereo In My Room
Parent Advisory – movie contains mild violence and flashing images.
We caught up with Ben after the Awards Show, and this is what he said about his win:
How did you feel when you won?
I was surprised! Mrs Keegan put me forward, I think she must have seen something in my film – I didn't put it forward myself. I'd totally forgotten about the competition until Mr Keegan phoned me and told me I'd been nominated.
What did the judges say about your film?
I think they liked that it was my own song. They said something about liking how the video was in reverse – time-altering, and they picked up on my dancing! But actually, when I didn't win the 'Best Music Video' category we'd sort of stopped listening as we didn't know there was this category, so I didn't hear much of what they said about it before they announced I'd won. I wish I had!
What's the film about?
I actually wrote the song about a year before I made the film. The song is about the music industry and the influence it has on people. Music has a lot of messages – about drugs about violence etc. and it's always there in the background, and we don't even know the influence it's having on our lives. The film shows a guy listening to a tonne of music, and as it goes on, violence ensues, and it just gets more and more. When you make music there is a tendency to exaggerate and emphasise what you say. You're not sad, you're really sad. You have to do this to get your point across and make it interesting. I composed the song digitally with my friend Marina singing on it. I wanted – for my own sake – to use my own song in the film, I wanted to understand the song fully to be able to make the film.
How did the Media and Film Department at Akeley Wood support you?
I've always had more of a passion for making music than film actually. I did Music Technology with A-Level Media and C-Tech Media at school. It's not common to do both the A-level and C-Tech together, but I'm glad I did, and it wasn't detrimental to my grades, I still got into the university I wanted to.
The Music Tech and Media and Film Departments at Akeley Wood are so good. Mrs Keegan is amazing – she is a great teacher, so passionate about everything and very knowledgeable. She is very nice, but also doesn't hold back and tells it like it is. It's the constructive criticism you need to be better.
What are you doing now?
I'm studying Music Production at Winchester University. As well as my actual course, I'm making music and film that I enjoy on the side, and get involved in the film department here too. I will definitely be sending the next film project I make to Mrs Keegan for her expert eye – without a doubt!
Published on: 9th March 2022