GCSE Results 2020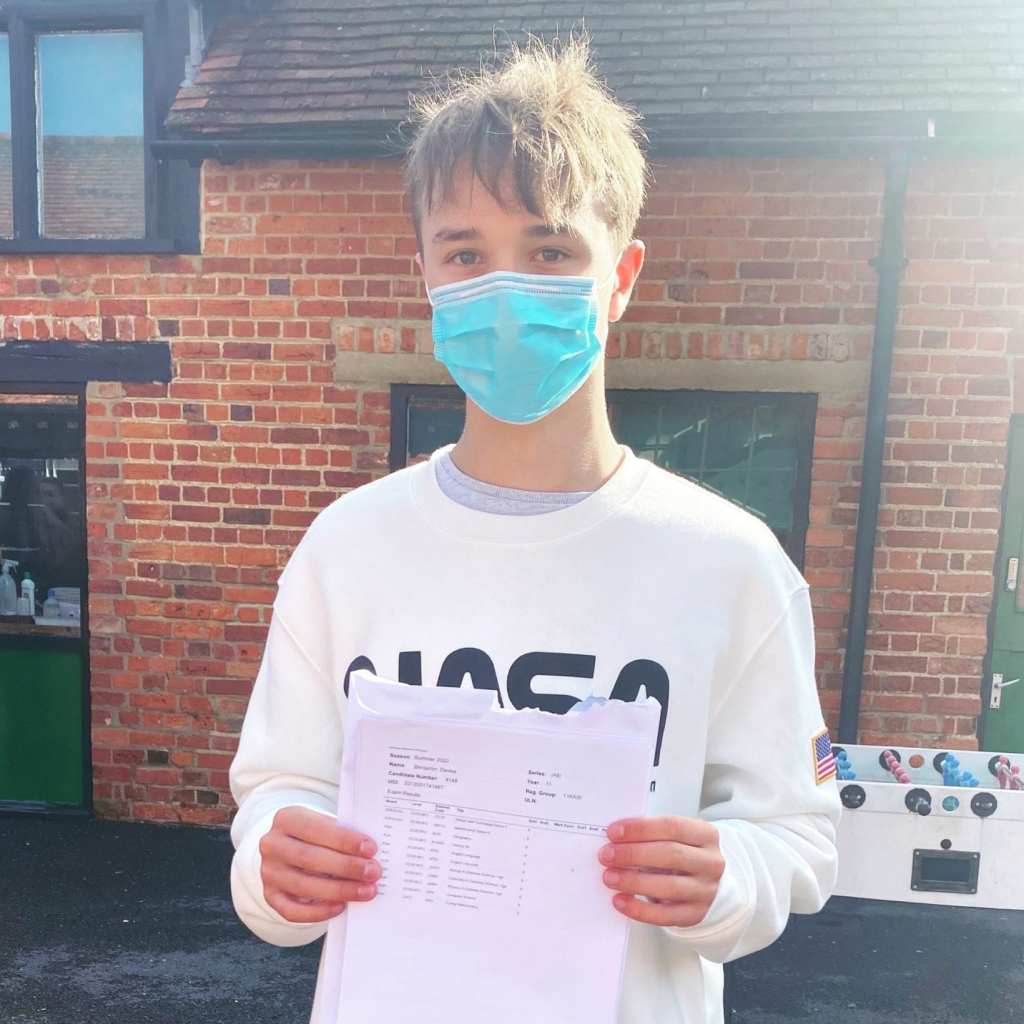 Students Celebrate Well-Deserved Results
Despite such a challenging year, this very special Year 11 cohort have continued to inspire and amaze us with their resilience and determination. The sun shone at Akeley Wood House this morning as students collected their GCSE results and reaped the rewards of all of their hard work. Envelope after envelope revealed fantastic results and we couldn't be prouder of each and every one of them.

GCSE Results 2020 summary
41% of grades at 9 – 7 (A**/A*/A)
88% of grades at 5+
98% of grades at 4+
Value Added Score increases for third year in a row with students now achieving half a grade higher than expected for their ability
Akeley invested in a personal development programme for Year 11 students ensuring that they spent this period of time developing and honing the skills they will need to be future ready and stand out from the crowd
Students used our scientific wellbeing App throughout the period of lockdown in addition to regular tutor check-ins. Pastoral support was continuous.
Value Added Score Sees Third Year Increase
The level of 'value' a school adds to a students' education is called the Value Added Score. Akeley's VA score this year has increased again with many subjects seeing a VA score of +0.8 (students achieving almost one grade higher than is expected of their ability).
Numerous students achieved straight 9 – 7 grades with Ben D achieving straight 9s – 11 of them! Huge congratulations to him but equally well done to the many who have worked so hard during the GCSE course whose grades truly reflect their ability and dedication. Many students achieved a VA of over +2, so achieving at least two grades higher than expected of their ability (based on their CAT scores from Year 7). This is where the true value of an Akeley education is so evident.
At Akeley we have always prided ourselves on celebrating achievement (progress made since Year 7) just as much as attainment (raw grades). The school has been on a unprecedented journey with improving "Value Added" (how well a pupil does compared to their raw ability) over the last 3 years – the pupils are now achieving half a grade better in every subject than 3 years ago.
AS Tracking
We also champion a scientific wellbeing programme called AS tracker. This monitors students' mental health, identifying triggers to our team who can step in before issues develop. During lockdown, this programme was used at home by the students and their parents via an App. We know that student happiness is key to academic success which is why we invest in such an impressive resource.
Mr Antwis, Principal said: "We are so proud of how hard they worked for their GCSEs during the time they were in school, and these incredible results are a testimony to the commitment of pupils and teachers to maintain high standards of education. Small class sizes, together with excellent pedagogy enable teachers to understand their students as individuals and provide bespoke support to ensure every child progresses. As well as the Inspiring Futures programme, teachers regularly checked in with students to see how they were doing from a wellbeing perspective and students accessed our wellbeing App."
Although our Year 11 students, like thousands others across the world, were unable to sit GCSE examinations this year, they used the summer term to improve the skills which will springboard them to success throughout their lives. We created a personal development programme for them which ensured that they used this period of time constructively. We believe that the lockdown period enabled our students to develop lifelong skills which will enable them to stand out from the crowd when applying for coveted university places and future employment. The programme, called Inspiring Futures ran throughout the summer term and engaged leaders in industry from organisations called InnerDrive, Lead Curriculum and DebateMate to deliver skills based training focussing on non-academic character developments such as leadership, communication, teamwork, creativity and emotional intelligence. The programme proved so successful that it will now form part of the Sixth Form curriculum moving forward.
Exam Grades
For each student, the school provided a 'centre assessment grade' for each subject – the grade they would be most likely to have achieved had exams gone ahead – taking into account a range of evidence including, for example, non-exam assessment and mock results.
To make sure that grades are fair between schools and colleges, exam boards are putting all centre assessment grades through a process of standardisation using a model developed with Ofqual, the independent qualifications regulator.
Published on: 20th August 2020