Insight into the world of a Professional Company Dancer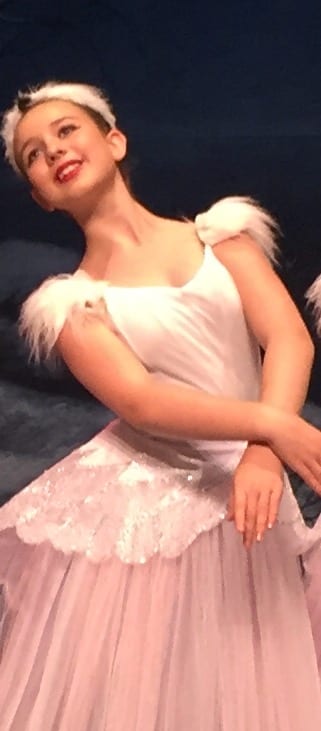 We are delighted to announce that Year 8 student Holly has been offered a place to study Ballet at The School of Ballet Theatre UK!
Holly has been taking ballet lessons for some years but started to take ballet seriously from the age of 10. She is currently studying RAD Grade 7 ballet and the vocational syllabus Intermediate level. Holly's ballet teacher advised that she should try to get into one of the full time ballet schools as an Associate to further strengthen her technique and also so that she could get an insight into what life may entail for a professional company dancer.
Holly applied for the School of Ballet Theatre UK earlier this year and following a rigorous audition process (which involved writing a CV and having photos taken in various classical ballet poses before being shortlisted to actually physically audition), she was ecstatic to learn she had gained a place on their elite Associate Programme which is designed to nurture and develop talented young dance students who currently study ballet at pre-vocational level. Each month Holly receives in depth classical technique classes with a personal focus, accompanied by various workshop and conditioning classes taught by the same teachers who teach at the School's full-time course.
Students of Ballet Theatre UK may also get the opportunity to perform with the professional Ballet Theatre UK Company at selected performances throughout the country.  In addition to this Holly has also successfully auditioned for the English Youth Ballet company and over the last 2 years has performed with professional ballet dancers in productions of Coppélia, The Nutcracker, Ballet Etudes and most recently performed Swan Lake at the New Wimbledon Theatre, London in the summer. She also performs with the Oxford Theatre Ballet as principal soloist and has been cast as Cinderella in their forthcoming production of Cinderella in March 2019 in Oxford.
Holly's passion for dance also extends beyond the classical repertoire to Tap, Modern, Contemporary, Lyrical and Jazz and she is currently working on choreography to compete as a soloist in the National Dance Festivals in 2019. Holly also attends various weekly classes at Tring Park Associates following successful auditions in drama, singing and dance. Earlier this year she auditioned with British Theatre Academy and Rare Productions and will be performing in Hairspray as Lou Ann, a "Nicest Kid", and Matron over Christmas in Leighton Buzzard.  Holly has also been cast as a principal dancer for Rare Production's version of the Wizard of Oz to be performed in April 2019 at The Waterside, Aylesbury.
Well done Holly, a very impressive repertoire of activities and a busy time ahead!
Published on: 5th December 2018