Jamie Choulerton Head Boy 2016/17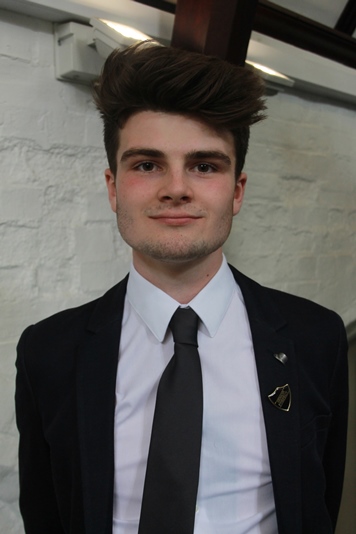 Prefect of Tile House Mansion
Subject Ambassador for History
What subjects are you studying at A level?
I am studying Business, History and Spanish
What made you choose your chosen subjects?
I've always had a passion for business; I guess it's been passed to me through the family, as it is the same story with them. Ever since starting Spanish in year 7, I haven't looked back.  I really enjoy the idea of learning another language and being able to communicate with people all over the world. History is another one too that I am taking. Once again it's that excitement of learning about so many things revolved around one subject and there's nothing better than a historical debate with your classmates!
What are your strengths?
I like to think I am very easy to talk to and really enjoy presenting and sharing ideas. I believe I am organised too which helps a lot when you've got a lot of things on your plate! I see myself as a good motivator too and once something has been started, I have to get the job done!
What year did you join Akeley Wood School?
I joined Akeley at Tile House Mansion in year 7, so I have been here for quite a while now!
What are your hobbies and passions?
I'm a fanatical sports fan and love anything with a competitive edge. This includes playing for a team and travelling down to West London every other week to watch my beloved football team QPR.
Where do you see yourself in the future?
It's always been an aspiration of mine to study an international business course at University. This would mean a lot of travel and studying abroad in the course, including speaking various languages and interacting with different cultures and situations, which I see as a great challenge. Furthermore, I'd love to get my FA coaching badge and get involved in some grass-roots football and put something back into the community, whether it be coaching or even playing.
What have you enjoyed the most so far at the school?
There are definitely a few stand out moments for me. Only recently I went on the annual Akeley Sri Lanka trip which was incredible. Various team building days and residential trips always bring up some good memories when I'm reminiscing with my peers.
What would you say to anyone joining Akeley Wood School?
Before I joined the school, I had come from a small primary school and I have to admit I was petrified by the idea of secondary education. However, Akeley became aware this was the case and they revolved focus on making sure I was comfortable and settled in the school environment. This helped me greatly and helped me relax inside as well as out of school. I also feel Akeley doesn't just offer superb education but it also improves you as an individual, furthermore with the class sizes being so small you feel more of a person than just a name on a piece of paper. The thing I'd recommend is just to embrace everything the school has to offer, whether it be lunchtime/extra-curricular clubs or sports teams, just go for it; you won't regret it!
What do you hope to gain from your position?
Being head of school is a real honor and I hope to achieve a lot of good things upon taking on the role. I hope it will have a positive effect on the school and me personally. I believe it will make me more responsible as well and make things happen that we have committed on working towards.
Published on: 16th September 2016