Junior School World Book day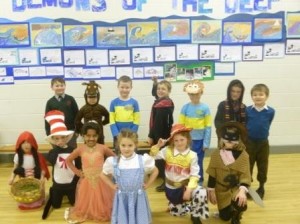 Yesterday the Junior School brought characters to life as we celebrated World Book Day. The corridors were filled with an abundance of different characters from Horrid Henry, Dorothy, Puss in Boots to Oompa Loompas!
It was lovely to see everyone dressed as their favourite characters and the school was a very colourful place. Each class had a winner for the fancy dress and very well done to Miss Budimir and Mrs Buxton for their oompaloompa costumes, Year 1 won a voucher to spend at our up and coming book fair which starts next Thursday.
World Book Day is a celebration of Books and reading and is marked in over 100 countries across the world; this year sees the 19th year of World Book Day. The main aim of World Book Day in the UK and Ireland is to encourage children to explore the pleasures of books and reading by providing them with the opportunity to have a book of their own. With this, World Book Day have provided each pupil with a book voucher which can be swap for a book at any participating book store.
Published on: 4th March 2016