Languages week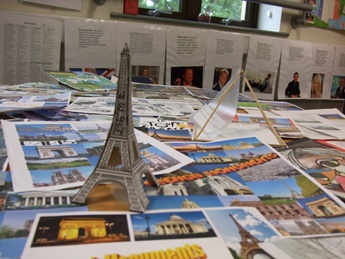 The final point of our Languages week were  the Assemblies held at each site with full staff  and student participation.  After watching a brief power point outlining the importance of learning a Foreign Language and advice on which websites are best  to use, Students read poems in their native tongues. 
I wish to extend my gratitude to the following who stood up in front of their peers to read in their home language:
Christian Normann – German
Phoebe Schultz – German
Miad – Persian
Lucca Aburad – Portuguese
Hamdon Iftikher – Pakastani
Zhibing Yan – Chinese
Yang Hui Pak – North Korean
Also
from MFL department studying French and Spanish: Bob Cameron, Emily Grice, Josh Usturan Anderegg, Jamie Choulerton and Sam Franklin
Numerous competitions were held over the week and students have until Friday 14 October to complete the Booklet, film reviews.
Mr Brash was nominated overall staff non-linguist winner for using the most non-English in his lessons and interactions.
Merci beaucoup Muchas graicas, Vielen Danken – to all who took part and good luck in completing the various competitions.
Mme Eames
Head of Modern Foreign Languages
Akeley Wood  Senior School
Published on: 5th October 2016