LIBRARY NEWS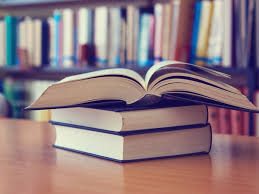 It is with great pleasure that I welcome our two new library prefects to the role of Librarians, where they shall supervise the day to day running of the library with me.
'Hello, my name is Makayla Bice and I am proud to have been a student here, at Akeley Wood Senior School for nearly three years now.  I have a strong passion for reading along with wanting to provide a pleasant environment for others to study at leisure.  Throughout my years as a student, I have used quiet rooms and libraries as a form of escapism from distractions deterring me from my studies and my most beloved hobby, which is reading. That is why I am very excited to provide and maintain this library here at this school.'
          'Hi my name is Zoe Wylde and I have been at Akeley Wood School for eleven years. I have always enjoyed being in libraries because I get to read new books and learn more about the world. Often I have used libraries as a way to get away from my daily stresses and problems that have occurred in my life. I am enthusiastic to help the library become a safe place for students.'
We are very excited to announce that in January 2018 we will be opening a new library in the Main House, currently the Media Suite.
Mme Eames
Head of Modern Foreign Languages and
Head of PSCHE
Akeley Wood Senior School
Published on: 21st June 2017