Music Department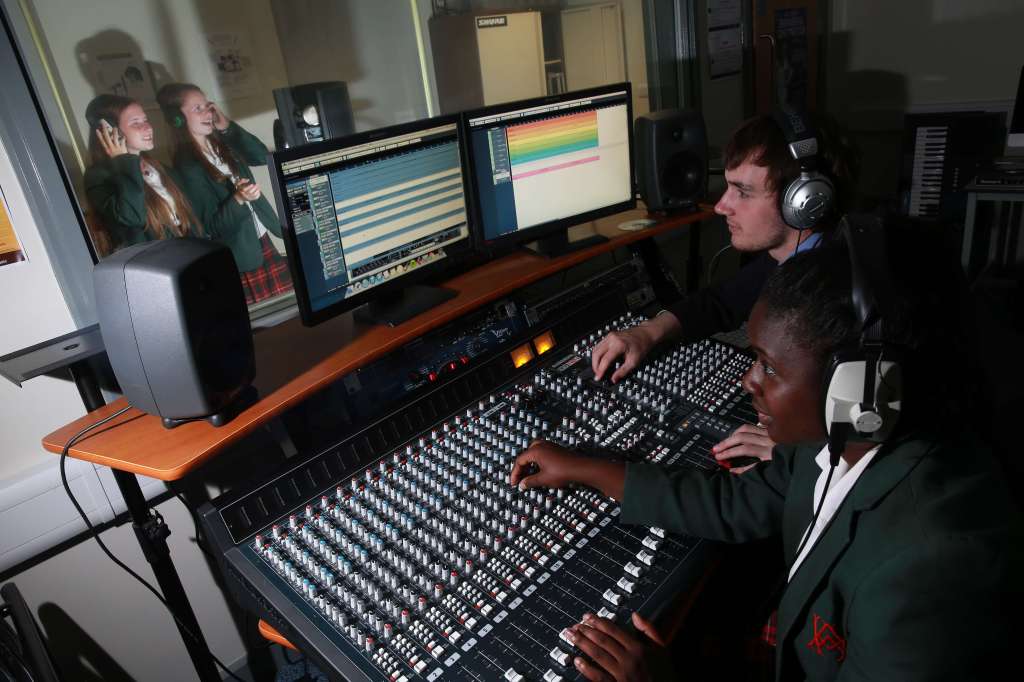 It has been a very busy and productive term for the music department.
At Key Stage 3 our year 7 students have been studying The Musical Elements. They have spent some time discussing "What is Music?" and explored how they can use the sounds around them to make music. We have also been developing keyboard skills, culminating in a performance of "Ode To Joy" by Beethoven. Year 8 students have been learning about The Blues and Rock 'n' Roll. They created mini bands and performed Elvis's hit "Hound Dog". They also composed their own Blues compositions. Year 9 students have completed a unit of work on Film Music, performing famous movie themes tunes on the keyboards. They also created their own movie scene using storyboards and composed a soundtrack to accompany this scene.
Key Stage 4 has seen our year 10 students doing lots of listening and composing. All students have now begun work on their first compositions task, with some using traditional notation and others using logic sequencing software. The students have also been studying popular music, with a focus on songs taken from the Beatles album "Sgt. Pepper's Lonely Hearts Club Band". Year 11 have been finalising their composition coursework and doing lots of preparation for their end of year exams. They are also preparing for their final performance recitals which take plane in March next term.
For our Key Stage 5 students, AS musicians have been getting their head around writing Bach Chorales, and have studies the Baroque solo concerto. A2 have been busily focusing on coursework completion, as well as preparing for their written exams that they will sit in June. Music Technology students have been learning about how to use the recording studio and have been working on creating music using Logic software, and recording music for their own multi track recording.
The extra-curricular life of the music department has also been extremely busy. Our 12 clubs and ensembles have been rehearsing every week building on key skills and expanding their musical repertoire. The first weeks of term were consumed by WoodFest, our annual whole school performing Arts concert, which had been moved due to poor weather at the end of last year. At the end of half term we had our annual Akeley's Got Talent competition which saw Josie Shuker crowned as the overall winner. At the close of this term we have our annual Carol Service, which is always a nice way to get in to the Christmas spirit.
Things to look forward to next term for the music department are the Milton Keynes Music Festival, Our Annual Music Competition, and most importantly, our 70th Anniversary concert taking place at the Wavendon Stables.
A big thank you to all of the staff, students and parents for their continued support to the music at Akeley.
Mr Powell
Director of Music
Head of Performing Arts

Published on: 17th December 2016