Junior School – Music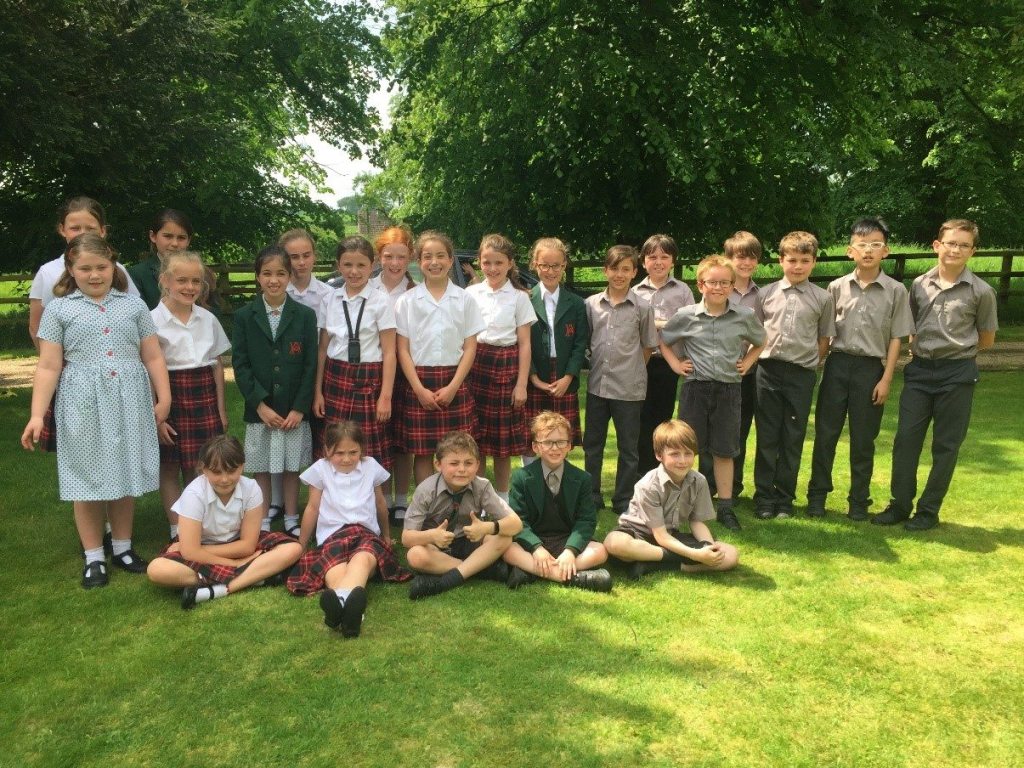 I can hardly believe that we are at the end of another school year – and what a productive and eventful one it has been for the musicians at the Junior School.
We started the term with the "Akeley Young Musician of the Year" competition final which was held at the Radcliffe Centre in Buckingham. Congratulations to Jasmin Ponte, Lucy Brown and Tristan Butterworth who represented the Junior School and performed extremely well to a packed concert hall. Special congratulations to Jasmin who was placed second in the "Akeley Young Musician of the Year" class with her mature and polished performance at the piano.
A busy term marched on with the Wicken Singers – fresh from their class winning performance in the Milton Keynes Festival – performing in the Ascension Day Service at Wicken Parish Church. The children thoroughly enjoyed participating in the service and the weather was kind which allowed them to have a great time playing in a local garden before we returned to school. A small ensemble of instrumentalists also accompanied the traditional performance of "All People that on Earth do Dwell" which was sung around commemorative tree in the village.
"Blast from the Past", a comical look at school days past and present, was this year's Year 6 production and the children made a fantastic effort and produced a super performance. We were very proud of them all as they acted and sang together for the final time as a year group. We are sorry to see them go and wish them good luck with their next steps at Akeley and beyond.
On the afternoon of May 26th, parents enjoyed a varied programme in our annual afternoon of concerts put on by pupils who have Peripatetic Music lessons in school. Over 60 children performed over the course of the afternoon and I am sure that all those who attended enjoyed the amazing variety of musicians we have at Wicken. We were also treated to performances by the String Group, Concert Band and Percussion Group. Many thanks to Mr Banks, Mr Ambrose, Mrs Thornton and Mrs Donlon for giving up their time to attend and support the children.
Selected instrumentalists visited Tile House Mansion and enjoyed a fantastic Folk Music Workshop day which was memorable and inspiring, and all of Year 5 were treated to a Performing Arts Day where they developed performances based around the show "Bugsy Malone". Many thanks to Mr Powell and his team at the Senior School for inviting the children to take part.
In June, Year 5 put on a swashbuckling production of "Treasure Island" which was great fun and allowed every pupil to unleash their inner Pirate! The children worked very hard to learn their lines and a number of songs and we had some great performances in terms of acting and singing. The production also included an ensemble of Year 5 instrumentalists who played beautifully as part of the incidental music. Well done to all those involved.
As I write there is one final performance left – the spectacular whole school event that is "Woodfest". The Wicken Singers, Concert Band, String Group and various solo acts hope to perform on Wednesday July 5th. I am keeping my fingers crossed that the weather is kind and we all enjoy a wonderful finale to what has been a fulfilling musical year.
Congratulations and thank you to all those children who have contributed in any way to Music at Wicken this year. Have a restful summer and come back in September ready to embrace the musical opportunities which next year will bring!
Mrs J Morgan
Head of Music
Akeley Wood Junior School & Nursery
Published on: 5th July 2017