RS at the Senior School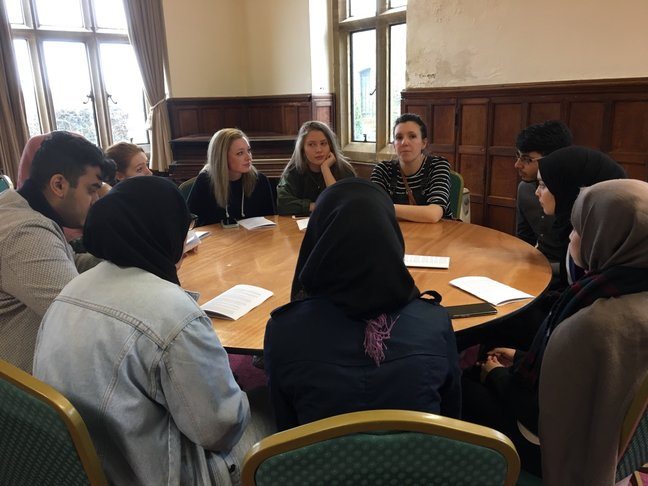 When I saw a post on social media from an RS teacher asking if anyone would be willing to host some students from a school in London for a weekend, I replied, yes, without thinking too much about it. Three months later and as Friday afternoon drew to a close I wondered if I had done the right thing. It sounded like an interesting idea. Seventeen Year 13 students from a school in Tower Hamlets: a part of the country that couldn't be more different from our part of leafy Buckinghamshire. But as teachers we are supposed to broaden the horizons of our students and this seemed like the perfect opportunity for my Year 13s to meet some other teenagers who lived completely different lives: call it preparation for university!
The London students got to train to MK and the X5 to Buckingham where we met them in Prezzo. Four of my students and myself, were all feeling rather outnumbered! However, before long the students were all chatting together and learning a lot about the different lifestyles that they all lived. The students, from Morpeth School in Tower Hamlets, were largely Muslim and of Bengali origin and for many of them this was their first trip outside London. I know my students certainly learned a lot from talking to them. Mrs Clough stopped by to chat to the teachers and students.
On Saturday morning our school minibus went down to the Travelodge in Buckingham to bring the group to school. None of them could really believe what Akeley Wood House was like and it made me see the school in a different light. For the next few hours we sat in the Sixth Form Centre and sang songs around the piano; had a debate in the Billiard Room on a topic relevant to the A Level course of both schools; had a tour round the school; and finished it off with pizza for lunch.
I can't express how much both sets of students got out of the experience. The Morpeth students were worried that they wouldn't be able to understand the Akeley students because 'they would be posh'. And the Akeley students were worried that the Morpeth students would think they were really stuck up. What happened was that both groups realised that despite differences in lifestyles and religions, they were all the same. Just 18-year-olds nervous about exams and the next stage in their lives.  These are the sort of lessons that can't be learnt from a textbook.
Plans are in place to continue this contact between the two schools and our students have been invited down to visit them in London. Definitely one of the best things I've been involved with during my teaching career.
Mrs Maltby
Head of Religious Studies
Akeley Wood Senior School
On Friday 10th March we arranged to meet with 17 Religious Studies students from Morpeth school. At first we were apprehensive due to our preconceived idea of them as our schools are very different. On Friday evening we got to know them over a meal at Prezzo and quickly felt more comfortable with them. It was interesting learning about their different religious views as most of them were Muslim. On Saturday they visited us at school and they were amazed at how different our school is from the schools in Tower Hamlets. We had a debate on whether religion is relevant in the 21st century, this was made interesting due to the contrast of our schools and the differences in the curriculum. After, we gave them a quick tour of the school and then finished the day with pizza and singing around the piano. It was a truly brilliant experience.
Josh Chadwick, George Collard, Bria Dancer, Tash Day, Evie Stroud, Jemima Wilch (Year 13)
Published on: 30th March 2017