Prefects at Tile House Mansion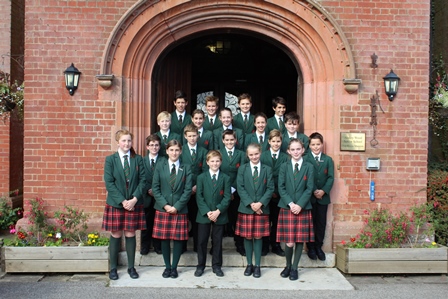 Ian IB, Connie LJS, Jamie LJS, James KS, Oliver LJS, Emily CAF, Thomas IB, Thomas KS,
                  Benedict KS, Abi KS, Ava LJS,  Finely LJS, Katie CAF, Freya IB, Harry DJD,
Tobias CAF, Harrison IB, Oliver KS, Eve CAF.
Tile House Mansion is pleased to introduce the Year 8 Prefects. The Prefects were chosen following interviews and it was incredibly hard to make a decision, given the large number of high quality applications. We would like to thank everyone who applied and performed so impressively during the process. The Prefects will be involved in leading a number of initiatives at Tile House Mansion over the coming months. Many of these ideas have come from the pupils themselves and include House Activities, International/languages Activities, a Library Team, a Friendship group, a Creative Arts team and a Charity Team. We are keen to involve as many Year 8 pupils as possible in these initiatives and every Year 8 pupil has been asked to indicate their interest via a form on Firefly.
We are also pleased to announce that for this term the Tile House Mansion  Head Boy is Oliver Barnett 8LJS and the Head Girl is Freya Robinson 8IB.
Our House Captains at THM are as follows:
Connie Adams – Pilgrim, Katie Richards – Hillcrest, Thomas Cramb – Stuart  and Oliver Wrigley – Thompson
Mrs Parker
Head of Tile House Mansion
Akeley Wood Senior School
Published on: 14th October 2016