Junior School – Reception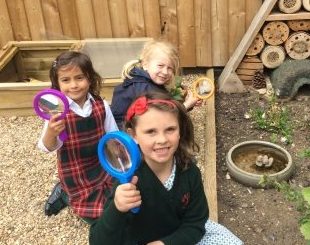 Reception have had an extremely busy and lively final term. Starting with a look at all of our favourite Fairy Tales and ending with a topic all about Summer.
As soon as the weather warmed up the children loved spending time in the garden. The sand investigation area and water areas were the most popular.
We had a super time at Blenheim Palace where we explored lifecycles in the Butterfly Garden and took part in problem solving activities.  The children learnt all about the palace, which linked to our traditional tales topic.
Our focus in Food Technology has been making drinks. The children loved using the blenders and decorating their drinks. Of course drinking it all up at the end was very popular.  Towards the end of term we joined the Key stage 1 pupils for Sports Day. The children ran their hearts out and everyone was so proud of their amazing effort and sportsmanship.
In between we have of course learnt to read, write and become budding mathematicians. Time for a Summer holiday!
Have a wonderful break and continue to be as wonderful as you are now in Year 1.
Miss C Wells & Mrs N Kenny
Reception Team
Akeley Wood Junior School & Nursery
Published on: 5th July 2017