Review of the Term From Nursery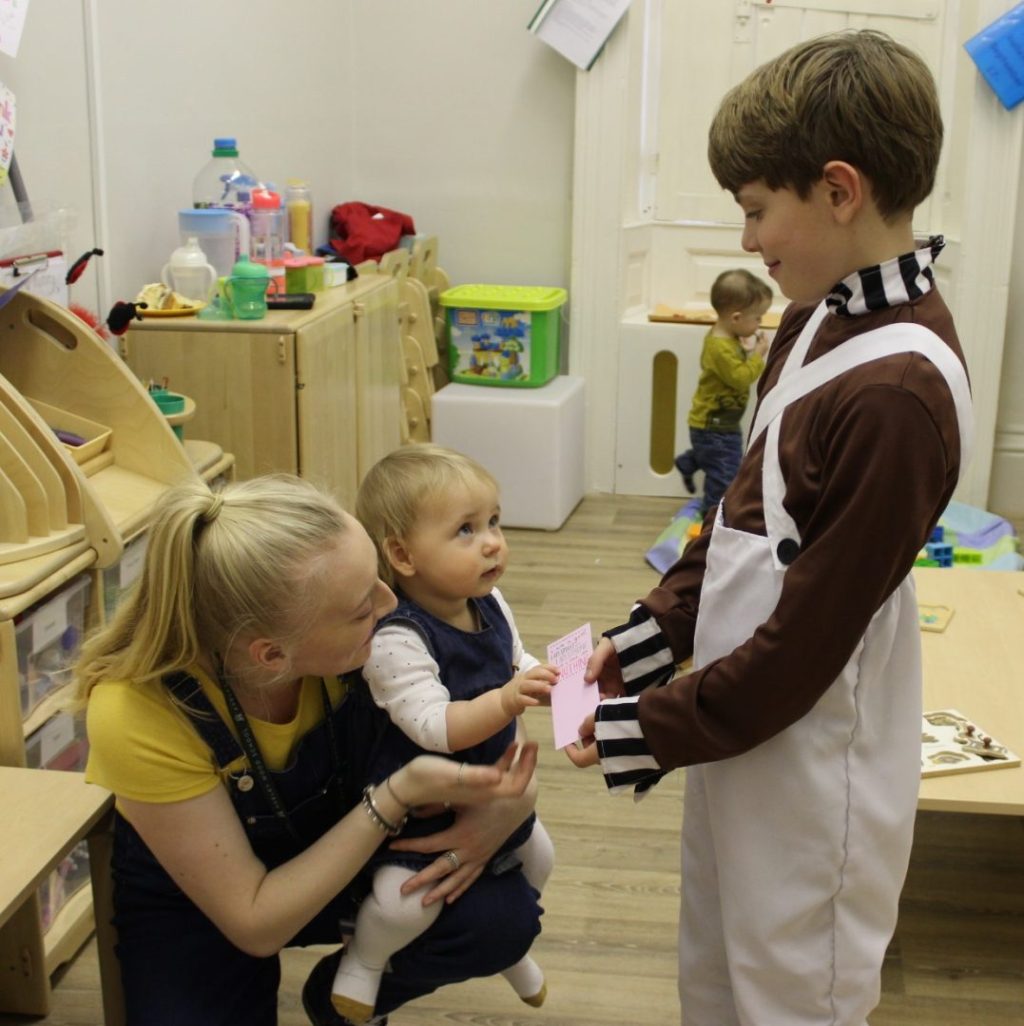 January
The Butterflies were still very excited about space and enjoyed exploring the space toys and using different textures to create a perfect moon like sand.It was great to come back after the Christmas break and listen to everyone's adventures.
The Caterpillars enjoyed playing with the role play food and having a tea party with their friends.After the Christmas break, the Ladybirds enjoyed looking at a variety of textures. Playdough was one of their favourites that month.Small world is always one of the Ladybirds' favourite toys to play with and they enjoyed exploring the dolls' house.
February
We celebrated Pancake Day by making pancakes in the Food Tech room. The Butterflies found this very exciting and enjoyed eating them too.
As part of Storytelling Week the Caterpillars were lucky enough to have Mrs Dowson come down to Forest School to share a story with us.Working as a team the Caterpillars also built 3D structures with the magnets.
Messy play was a real focus of our adventures in February. We explored jelly, shaving foam, sand and water.
In Butterflies this month we embraced 'International Women's Day'. We made flowers for all of the special ladies in the School. We also learnt about 'Lotte Reiniger' and made our own Shadow Theatre.
Caterpillars enjoyed dressing up for World Book day this month and spent a lot of their times sharing stories with one another.
The weather is starting to get a bit better and the Ladybirds have been enjoying playing in the garden and going on lots of walks.
We hope you have a wonderful Easter. Please keep us updated with photos and videos on Tapestry.  We love sharing these photos and videos with our friends at group time.
A Few Reminders
The Nursery is closed Friday 30th March and Monday 2nd April. We are reopening at 8.00am on Tuesday 3rd April.
Please can we try to encourage the children to leave toys at home. I know how hard it is, but if your child does come in with a toy please can you put it in their bag before you leave. There have been a few incidents, where staff are looking for some of these toys at the end of the day. If you child has a comforter to sleep with, that's fine.
Breakfast is served between 8.00-8.45am, if your child requires breakfast please come in within these times as we start our activities at 9.00am. We have had a few times where the children have been delayed going outside due to children having breakfast after this time.
Please can I remind everyone that children should not be dropped off before 8.00am. If your child is attending a morning session then pick up is before 1.00pm. If your child is attending a full day then pick up is before 6.00pm. Late charges will be charged accordingly and are £10 every 10 minutes.
Mrs Hannah Winnett
Nursery Manager
Akeley Wood Junior School & Nursery
Published on: 3rd April 2018