Shortlisted for the TES Independent Schools Awards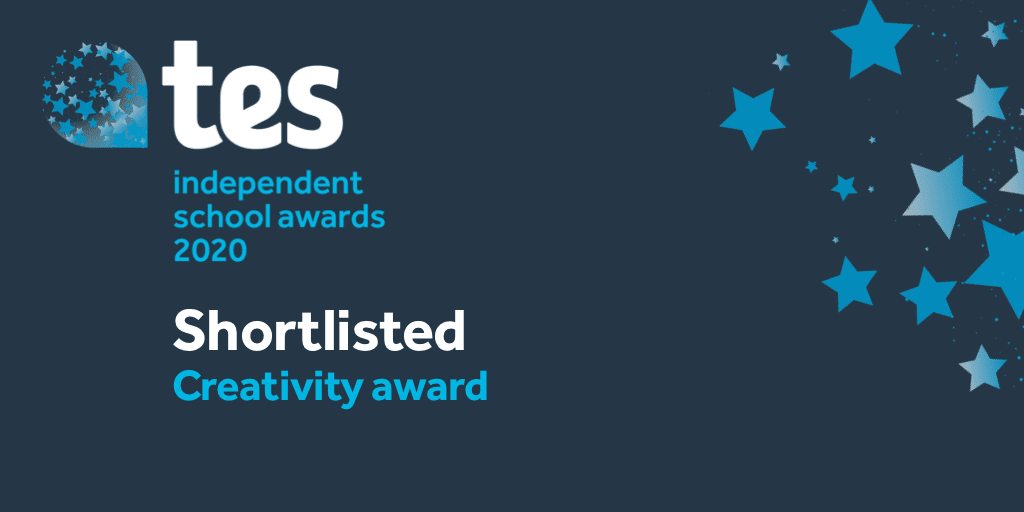 We are delighted and excited to announce that Akeley Wood Senior School has been shortlisted for the TES Independent Schools Awards – Creativity Award!
This isn't about our wonderful Art, Music, Drama, Film and Design Departments, the superb academic results in The Arts or our creative and personalised approach to teaching. Although all are true – it's about how we put creativity at the heart of our planning of the curriculum and how we enthuse children to think differently, beyond the structures of the conventional curriculum.
Mrs Silver designed an exciting programme for the children in Year 7 and 8 called the Innovation Rotation to add a further dimension of creativity for the students at our Tile House Mansion campus.  The Innovation Rotation is a compulsory four-part curriculum programme for 11 to 13-year olds that is designed to give students something more than just the satisfaction of completing an interesting project. Each eight-week component, focusing on a different topic in rotation, aims not only to give students a global mindset but also to connect with the world around them. It blends practical knowledge with theoretical insight and consciously aims to access the world beyond, which can sometimes be hard to appreciate if you are growing up in a relatively rural part of the world.
From fabrics and fashion to sustainability, global mindedness and robotics…
One group this year, for instance, is studying fabrics from the past that could inform fashion for the future. What part will reusable garments and fast fashion play now and in the future – how might clothes and design evolve?
Another is exploring sustainable and ecological design, working with 3D design programs to imagine and build habitats that will best protect endangered species.
A third group is focusing on global mindedness and the quality of information we receive – what is fake news, how might it be approached with a critical eye?
The fourth is looking at robotics and AI by turning to the past – how did previous inventions affect society and what can their impact teach us and future generations about handling our digital revolution?
All of these topics are weaved into our Year 8 student leadership programme, which gives students the opportunity to apply what they have learned to produce tangible outcomes. For instance, Innovation Rotation has inspired students to form a green committee, an arts committee and a sustainable outdoors committee. We even have a team designing and building a bespoke tortoise enclosure for two rescue tortoises, funded by the Year 8 run 'Tortoise Café'. And, of course, they get to talk about and debate what they have achieved and what needs to be done next, with a lived sense of ownership, strategy and vision.
It is the kind of independent, dynamic activity normally reserved for sixth-formers but eagerly lapped up by 12 and 13-year olds. Students love the programme because they can see the fruits of their endeavours. Parents appreciate it because it gives children practical skills and teaches them how to debate, articulate and problem solve.
As educators we are always keen to help our students become globally aware. We believe Innovation Rotation, as well as creatively enriching the curriculum of Years 7 and 8, gives children an intellectual and practical purchase that allows them to think about what being connected to wider world really means and how they can act as agents to create positive change within their own school, lives and beyond.
TES editor Ann Mroz said:
"The Independent Schools in this country are truly exceptional and those that have earned a place on the TES Independent Schools Awards 2020 shortlist are a cut above the rest. 
We received an unparalleled number of entries this year, all of which are first rate.  The schools The schools that have been shortlisted should be proud – it's a remarkable achievement."
The most outstanding individuals and institutions that the independent sector has to offer are recognised in the shortlist for these awards.  Today we received the wonderful news that Akeley has been shortlisted for the Creativity Award.
Well done Team Akeley!  The winner is announced in February 2020, but we all know that being shortlisted in these highly competitive awards is just amazing and we are already celebrating!
Published on: 15th November 2019