Stand up for Bash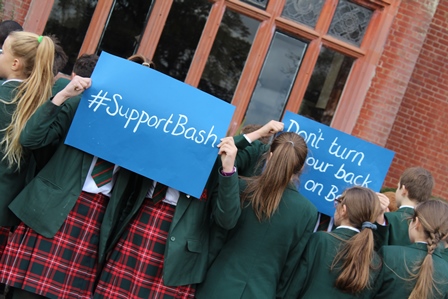 On Thursday 10th November, pupils across both Tile House Mansion and Akeley Wood House participated in a protest against a Cardiff teenager who faces deportation to Afghanistan.
Bashir is a 19 year old boy who was trafficked to the UK at the age of 10 to escape the Taliban in Afghanistan. His father, a police officer, was murdered by the Taliban and his mother sold the family's land to pay traffickers to protect her little boy; it took Bashir a whole year to make the arduous trip to the UK.
Mrs Exarheas taught Bashir a number of years ago at Mary Immaculate High School in Cardiff. She still remembers him for how kind and hard-working he was.
For the last 9 years, Bashir has lived in Cardiff within a loving foster family, accepted by and part of our UK society. The Home Office is currently deciding whether to send him back to Afghanistan, where he would be in danger; he cannot speak the language, does not know if he has any family there and could be targeted, as he is now Westernised.
Bashir has been kept in a detention centre and his wrist is now in a cast because he was injured when he was transported to the airport, shackled. He is being treated as a criminal for no reason. Two hours before his flight, he was told he wouldn't be deported just yet due to the social media campaign and petition, which has over 11,000 signatures. 
See the  the link to the petition HERE 
Mrs Exarheas
Deputy Head of Tile House Mansion
Teacher of English
A pupil in Year 8, who was moved by Bashir's story, wrote this in response to the assembly:
As a child, I always wanted the latest gadgets and fashion trends; for example if you put an iPhone6 and an iPhone 4 in front of me and I was asked which of the two I wanted, I would without a shadow of a doubt choose the iPhone 6. Wouldn't you? Although imagine asking for Christmas not to be shot by the Taliban. That's a very different story, isn't it?
I want to tell you about Bashir. Bashir's father, who was a policeman in Afghanistan, was shot by the Taliban. As you can imagine Bashir's mother was terrified for him so she sold all of her land, all of her possessions, for men to get him to any safe country they could. He came to Wales at the age of ten.
He is now nineteen and the Home Office are saying that he is an adult and he needs to go back to Afghanistan even though he speaks English now, has a Welsh accent and doesn't even know if his mother's alive. He doesn't even speak their language anymore, so he would be identified quickly.
Bashir was kept in a detention centre, until he was told he had to get on the plane. He replied with the advice given to him… 'No!' So the guards forced him to get on the plane by shackling him. In fact they forced him so hard that they injured his wrist. They threw him into a van heavily guarded by police, without any of his possessions. He begged and pleaded for them to tell his girlfriend and foster parents that they were taking him. Luckily, they eventually did and two hours before he was going to board his flight, the guards were told to release him as they would be looking at his case.
He has now got only a couple of days until the Home Office will have decided if he's going back, so we need to do all we can to help him. Please tag on any of your social media posts #SupportBashir #StandUpForBash
Published on: 14th November 2016