Tile House Mansion Spooktacular Poetry Competition Winners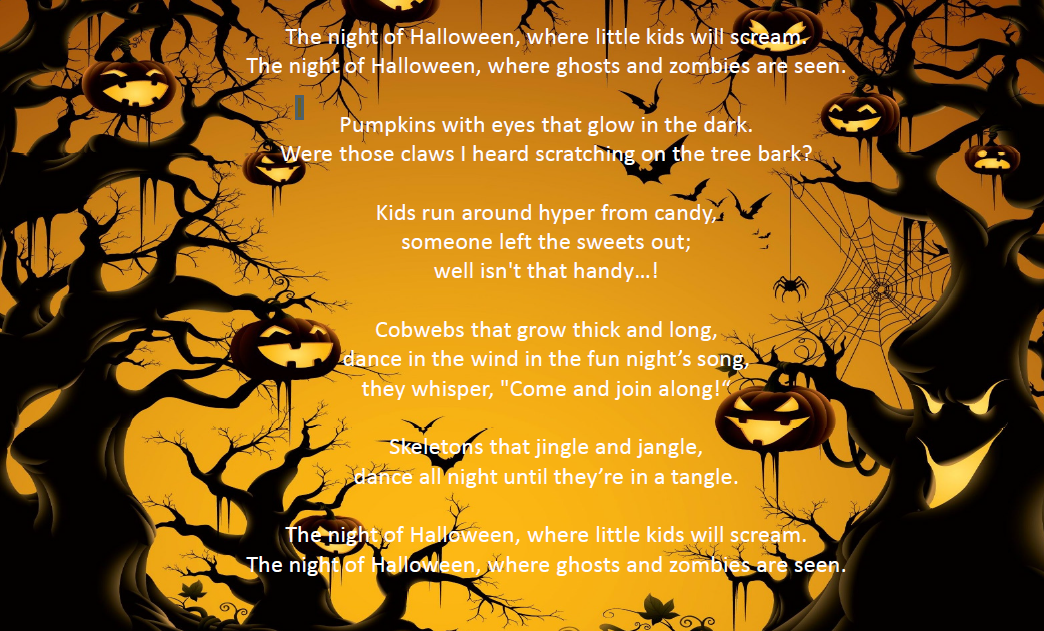 above 2nd Place   Inara Stevens The Night of Halloween
As part of our Spooktacular event, Year 7 and 8 pupils were challenged to write a poem on the theme of Halloween. There were some very impressive, well crafted pieces which made the judging tough for Emily Bourke, Ava Graham-Ryder and Katya Mackenzie, who set up the competition. However, Ana Pearson's poem stood out for its creative, and somewhat topical, ideas; it was wonderful to watch her perform her poem to parents, teachers and pupils at the Spooktacular event. Well done to all pupils who entered!
Mrs Exarheas
Deputy Head of Tile House Mansion
Teacher of English
Deputy Designated Safeguarding Lead
Akeley Wood Senior School
3rd place  Erin James Happy Halloween?
Happy Halloween?
The streets are silent,
Your head is ringing,
Where is everyone?
Are you alone?
Your heart starts to rush,
Should you turn back?
You start to creep towards the light,
AAAAA, what was that?
You run frantically home,
But something stops you in your track
You look up and you are greeted by the face of a young girl,
Or so you'd thought
You ask her if she is ok,
All of a sudden she opens her mouth
You think she wants to say something
BUT NO
Tiny spiders and creatures ooze out of her mouth,
Her eyes bleeding,
You scream but no one is there,
You try to run but you can't,
You are paralysed
You wake up in a dark hospital,
Feeling so glad that someone found you,
But wait who is that at the foot of your bed?
Happy Halloween she says!!!
1st Place  Ana Pearson
who's that behind the mask,
that creep, laughing clown,
their painted smile is not to trust,
behind there is a frown,
he wanders though the darkened streets,
filling all with fear,
and on his face beneath cruel eyes there is a painted tear,
walking faster in the dark,
I hear an evil laugh,
panic now I reach the door,
he's coming down the path,
racing in I slam the door,
"at last I'm safe" I sigh ,
what's that noise?,
that smell, that breath,
I turn around,
the clown is here……..
inside!
Published on: 7th November 2016