The Tile House Menagerie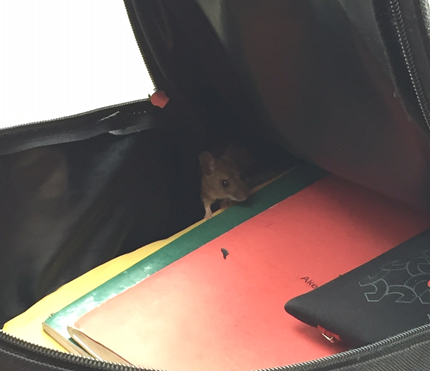 Following on from Mrs Parker's bat discovery last week, our new little friend at Tile House is this mouse, who Archie Spinks discovered in his bag in my English lesson this morning!
His cat was chasing a mouse last night, he remembers, so it seems that it found refuge in Archie's bag then. The children have christened the mouse Hillary Trump. Thanks to Mary Parker, AKA Doctor Dolittle, for taking Hillary to safety.
Here are some poems inspired by the event (I wasn't going to let a writing prompt like that go!):
When Archie opened his sack,
He found a mouse with eyes of black.
It startled him so,
And made him shout 'Go!'
So off went that mousey shadow.
It's been through a treacherous night,
It must have been one big fright,
What a poor mouse!
What happened to its spouse?
Well, now it's at the school of Tile House!
By Nicholas Gilbert
I was rolling in the field one day
When a cat came and took me away.
My prison began to sag-
Turns out it was Archie's bag!
Everybody seemed to be scared
But all I could do was stare
And after I was dumped
I was christened Hillary Trump.
By Toluwashe Alli
Mrs Exarheas
Deputy Head of Tile House Mansion
Teacher of English
Published on: 10th November 2016