Guided 6 day TOUR to ICELAND – Monday 23rd – Saturday 28th Oct 2017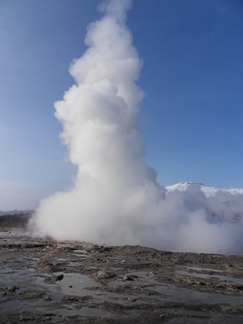 ART DEPT and GEOGRAPHY DEPT
Guided 6 day TOUR to ICELAND – Monday 23rd – Saturday 28th Oct 2017
Dear Parents and Pupils,
We would like to invite and offer present and prospective GCSE and A level Art and Geography students the opportunity to visit the amazing country of Iceland next Autumn. The decision has been made based on the obvious geographical features which depict the island's past history and the present re-birth and continuing changes; it also encompasses the incredible diverse landscapes which are an artist's and photographer's playground.
We will be flying with Icelandic Airways/ B.A., and will be met at the airport by our coach for the transfer to the hotel and for our subsequent guided tours.
There will be a full 6 days itinerary around some of the most fascinating areas of the island. These will include visiting the Blue Lagoon, swimming in hot pools and seeing the geysers, walking on glaciers and boating amongst ice-bergs, viewing volcanoes (from a safe distance of course), Lava-tubing, seeing the Aurora Borealis(hopefully!), as well as touring the island by coach to view the spectacular landscape.
Our Hotels will provide us with full – board accommodation, each bedroom sleeping 3 -4 people and having en-suite facilities. Breakfasts and evening meals will be taken at our Hotels, and packed lunches will be provided whilst we are out on excursions. Hot drinks and high energy bars will be available to keep us warm!
The cost of the trip will be £1,300. This is based on a group of 25 students – if we have more takers , then it will be a lesser amount. We are aware that this is a considerable amount for a school trip, but because of its uniqueness and the amount of visits we will be making, we aim to get full value for our money. To make things more manageable, the cost will be paid in the following installments:-
*1st Deposit (upon booking)= £150.00
*2nd Instalment =  by 9th Sept 2016 = £150.00
*3rd Instalment =   by 3rd March 2017 = £450.00
*4th and final payment = 9th June 2017 = balance of £550.00
This includes :-
*Air travel to and from Iceland
*Transport to and from airports, and coach travel around the island
*UK and Foreign airport taxes
*5 nights full board
*6 full days itinerary
*Comprehensive travel insurance
*warm school hoody
Not included are meals during travel to/at the airports
If you would like your son/daughter to join this tour to Iceland, could you please fill in the attached slip and return it together with a non-returnable the deposit of £130.00 made payable to Akeley Wood School (Iceland Trip written on the back please) and hand to either Mrs Sexton or Mr Medd upon return.
Should you have any queries, do not hesitate to contact us at:-
Julie.sexton@akeleywoodschool.co.uk
Sam.medd@akeleywoodschool.co.uk
Yours sincerely
Mrs Julie Sexton
(Art Dept)
……………………………………………………………………………………………………………………………………………………
ICELAND TRIP Oct16th-21st 2017
We…………………………………. confirm that we would like our son/daughter…………………………….to be included on the Art, Photography and Geography Trip to Iceland during Autumn Half Term 2017 (23rd-28th inclusive).
We enclose a non-returnable first deposit of £130.00 made payable to Akeley Wood School with "Iceland Trip" written on the reverse.
Published on: 22nd June 2016