U10 U11 Rugby National Finals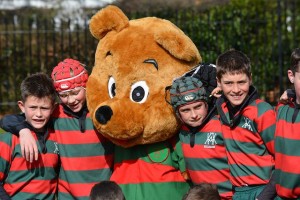 Sunday 6th March saw both the U10 A & U11 A rugby teams represent Akeley Wood at the National Rugby Finals.
Having both qualified in November at Warwick the boys had been training hard for this day. A difficult day it was going to be but how proud everyone stood at the end of the day. With great Akeley support the boys took to the fields and gave everything.
The U10's were in a tough group but tried to battle away through all the games. Having lost their first two matches the boys got their rewards in the third game winning 10-5. This gave them a real boost but they just fell short in their last game which meant the boys finished 4th in the group. It was a great experience for this group of boys and I really hope its given them the hunger for next years competition.
The U11's took their game to another level topping the group. They played some outstanding rugby which was recognised by many different people throughout the day. They even beat last years Runners Up in the group. Shrewsbury House was a massive game which I think took it's toll on the boys. Not only did they reach the Quarter Final but they did so topping the group which was outstanding. The Quarter Final was another close encounter with the boys falling just short 10-5.
It was a great day and one that should be savoured by all of Akeley. The boys were a complete credit to the school and I know Mrs Clough and Mrs Page were extremely impressed and proud of the boys.
Many thanks to all the parents for their outstanding support of both teams. A real team Akeley effort on the day. Let's hope our teams can reach the Finals next year.
Mr Lemon
Special thanks to Mackenzie Frost, our mascot, supporting  the teams!
Published on: 11th March 2016