AW6 Phase 2 Development Gets Underway

The Second Stage of Development
We are delighted to announce that the second stage of development of our AW6 Sixth Form campus will begin during the summer holidays, with completion of this £1 million investment into facilities – Phase 2 – expected in time for the Autumn Term in September.
Our specialist Sixth Form was opened at Tile House Mansion in September 2021, after a complete refurbishment of the ground floor, injecting a modern and pre-university style interior feel to the elegant infrastructure of this historic building.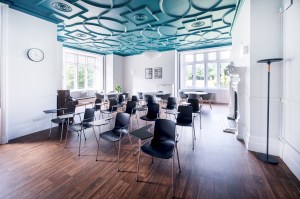 A high-ceilinged Seminar Room has played host to many talks and presentations by students, staff and visiting speakers, and has seen many inspiring professionals pass through it's doors, for events including networking breakfasts and public speaking workshops in collaboration with the University of Buckingham. Opportunities such as these, along with initiatives such as Young Enterprise, Extended Professional Qualifications and team building residentials make up our Future Ready Enrichment Programme, designed to complement every student's A Level timetables while equipping them with transferable life skills that will set them apart.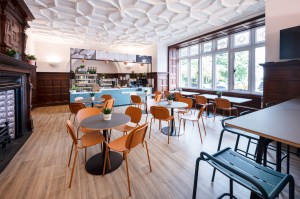 The foyer is a hub where students meet with their teachers, have 1:1 careers advice and work collaboratively, while the Library is reserved for quiet study and research.
The student Common Room, complete with table football and an informal working space is where students can go to relax between study periods, as well as the bright café where there is a continual exchange of ideas and a steady stream of fresh and varied food and drink to fuel the mind.
Having seen how much our Sixth Form students have benefitted from and enjoyed their brand new campus over the past academic year, we're really excited about the next stage of development coming this summer. Watch the film below for a short overview on Phase 2 from Head of AW6, Lotty Dee-Andrew, and keep reading for a full breakdown of what the next stage of investment will involve.
The upcoming Phase 2 of development will include:
A new Media Studies Hub with specialist software and technology, including 14 Apple Mac computers to enable our creative students to bring to life their media projects.
Further investment in the Creative Arts: the new studio will encompass Fine Art, Photography and Textiles facilities to industry standard. This will include dry and wet areas for printmaking and ceramics, a suite of new sewing machines as well as a photography editing area with the newest software.

A Music Technology recording studio, a collaborative music teaching space and a re-furbished music and band practice hub will be created.

To support with independent study, a Pre-U style pod space is being installed to offer an additional quiet study space, along with a further common room equipped with a Pool Table for down time. 

All classroom spaces on the first and second floors will be re-furbished to match the AW6 look and feel, with collaborative teaching spaces and newly developed Biology and Physics laboratories. This renovation will offer an inspiring learning environment to bring spaces into line with the newest areas of AW6. 

As part of this development phase, down the road at the Akeley Wood House site, the Design Technology studio at  will be adding a computer-aided milling machine to it's current laser cutter and 3D printing machine stock. It will also be getting a smart new face-lift in the form of lined walls and new benches and flooring to align with the delivery of our 21st century DT curriculum.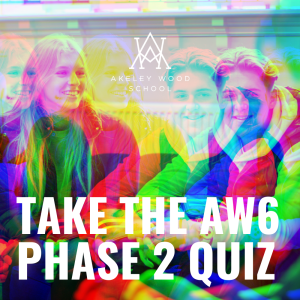 We can't wait to share the progress of all of these exciting new developments with you throughout the summer, as we watch AW6 transform once again.
Follow us on social media to keep up to date with all things Phase 2. You can find us on Facebook, Twitter and Instagram; on our main Akeley Wood School channel, as well as our brand new dedicated AW6 feed.
Fancy testing your knowledge on Phase 2? Take our AW6 Phase 2 quiz by clicking the graphic.
Published on: 4th July 2022